Hardwood flooring in a bathroom might not be the best option in such high humidity and not-too-friendly wood environment as a bathroom setting.
Bathrooms have a lot of water spills, drainage issues, plumbing problems, and humidity in general. All of these cause any type of wood to lose its quality over time and develop rot or mold.
However, hardwood floors are still a viable option for a bathroom with lower traffic than that of the main bath.
Let's look at the advantages and disadvantages of hardwood flooring in bathrooms, and what to consider before you install wood flooring in your bath.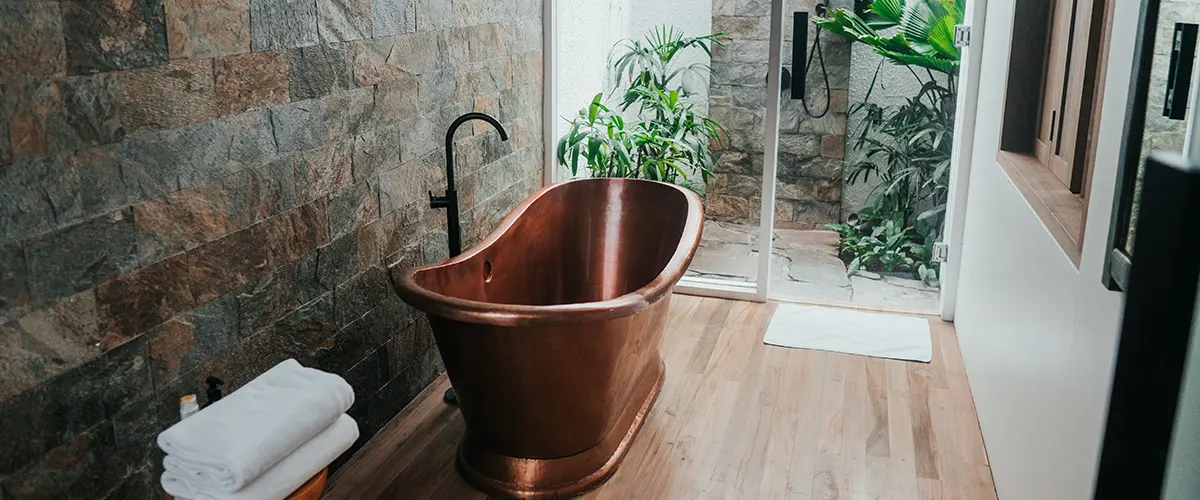 Advantages Of Hardwood Flooring In Bathroom
Hardwood is one of the toughest wood out there, and it's the number one material choice for many projects, from flooring to kitchen cabinets. Let's look at some of the greatest advantages of installing hardwood floors in your bathroom.
1. Hardwood Flooring In Bathroom Is Warmer And More Comfortable
Compared to other popular flooring materials, like ceramic or porcelain tile, a hardwood flooring provides much more comfort and warmth. For example, one of the biggest drawbacks of ceramic is that they're very cold, so walking barefoot on them will never feel as good as walking barefoot on a hardwood floor.
2. Hardwood Flooring In Bathrooms Looks Amazing
You can't argue that wooden floors look way better than a tile floor or luxury vinyl tile flooring. Hardwood brings in your home the natural look of wood and the beauty nature has to offer. While tile will make your bathroom feel more airy and cold, hardwood bathroom floors will make this space look more elegant, cozy, and vibrant.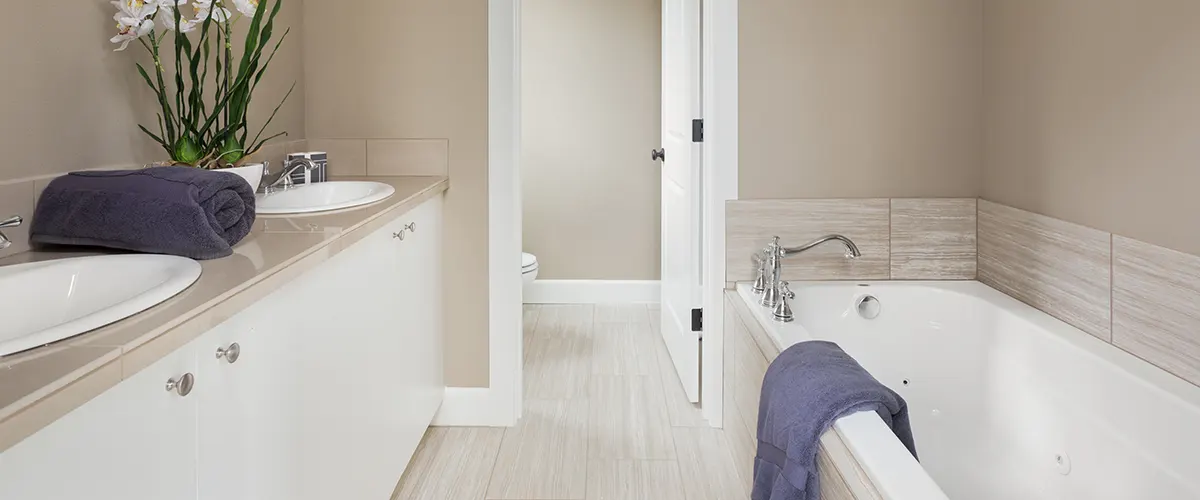 3. Hardwood Flooring Has A Long Lifespan
Hardwoods are known to be extremely durable. The bathroom environment might affect their quality, but with the proper maintenance and treatment, you can expect your bathroom hardwood floor to look good even after a decade. In general, hardwood floors are said to last for 25 years, making it one of the most durable flooring materials, along with ceramic, porcelain, or natural stone floors.
4. Hardwood Flooring Can Be Refinished Anytime
One of the best things about a wooden flooring is that it can be refinished any time. This means that if your floor starts to look a little worse for wear, you don't have to replace it—you can simply refinish it and it will look like new again.
5. Hardwood Flooring Will Increase The Market Value Of Your Home
When it comes to renovating your home, installing hardwood flooring is one of the smartest investments you can make. Not only does this flooring look great and add value to your property, but it also has a big return on investment (ROI). This means that you can expect to get back a good chunk of the money you spend on hardwood floors if you'll eventually sell the property.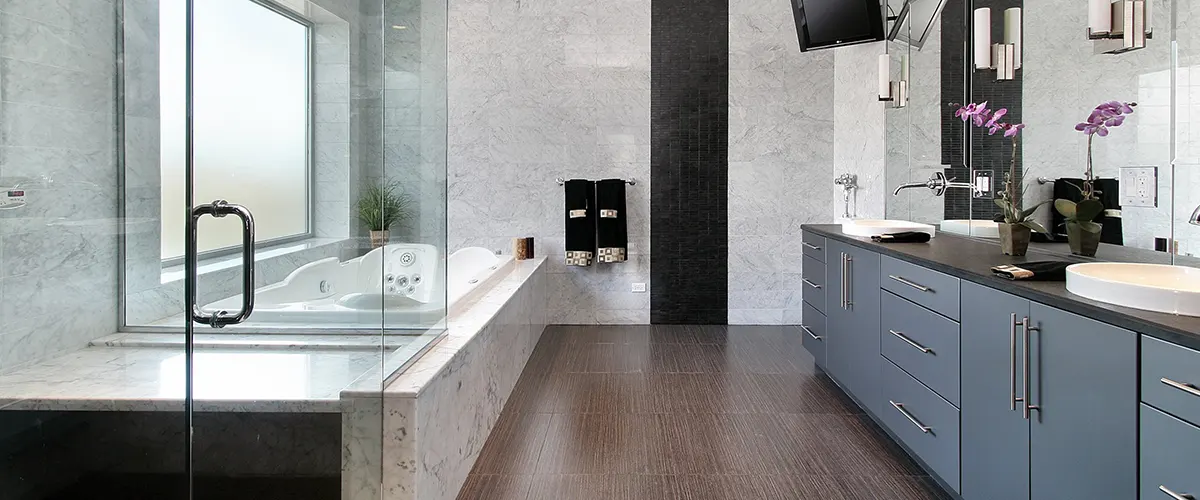 Disadvantages Of Hardwood Flooring In Bathroom
Although hardwood is a type of wood that doesn't get ruined as easily as other types of wood, they still have some disadvantages that you'll have to deal with. Especially if you're thinking of installing wood flooring in bathroom.
1. Hardwood Floors Are Not Fully Resistant To Water
One of the biggest disadvantages of wood floors is that they're not fully resistant to water. This means that if there's a lot of water spills in your bathroom – an everlasting problem with baths, the hardwood can get damaged and start to rot or mold. In addition, if your bathroom has any drainage issues or plumbing problems, the water can easily seep through the cracks and damage the hardwood.
2. Hardwood Flooring Is Not The Cheapest Option
Another disadvantage of hardwood floors is that they're not the cheapest option out there. In fact, they can be quite expensive, depending on the type of wood you choose. If you're on a budget, then you might want to consider other flooring options, such as ceramic or luxury vinyl tile.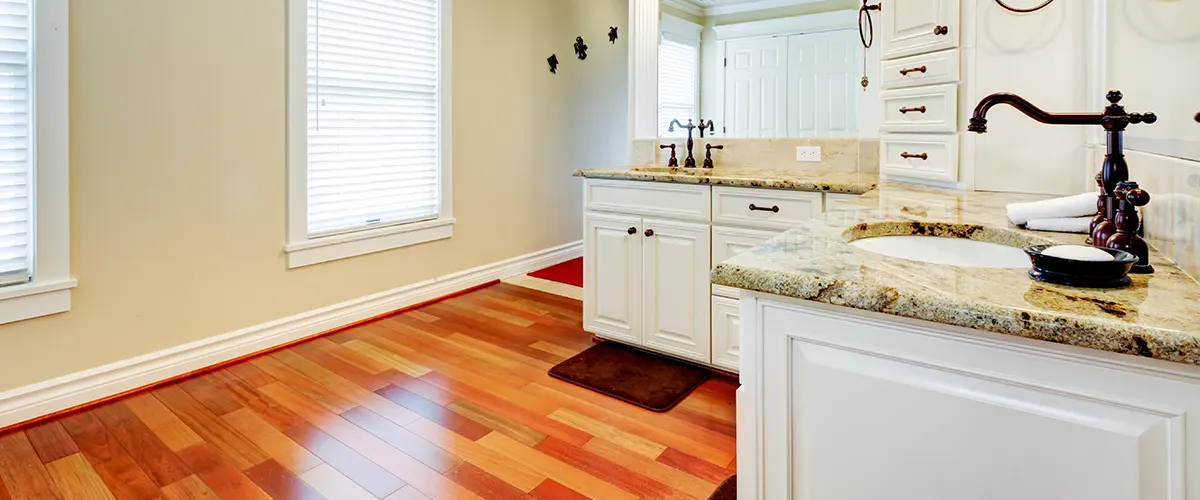 3. Hardwood Floors Can Be Scratched Easily
Hardwood floors can be easily scratched by your pet's claws or even your children playing on it. Because of the hardwood's darker hue, scratches and dents are highly visible, which can cause your floor to lose its beauty. However, the damage is far from permanent, as you can always sand your hardwood floor, seal, and stain it to look brand new.
4. Hardwood Floors Need To Be Sealed Regularly
Another downside of hardwood floors is that they need to be sealed regularly in order to protect them from water damage. This means that you'll have to spend some time and money on maintenance, which can be a hassle. Especially in bathrooms, your hardwood flooring will require even more maintenance than usual.
5. Hardwood Floors Can Be Noisy
If you have wood floors in other rooms, you might notice they can become noisy after several years. After all, all types of wood will begin to squeak at some point, no matter how good you treat it. Besides the squeaking, wood also tends to amplify the sound of footsteps, especially if you walk around with slippers or shoes.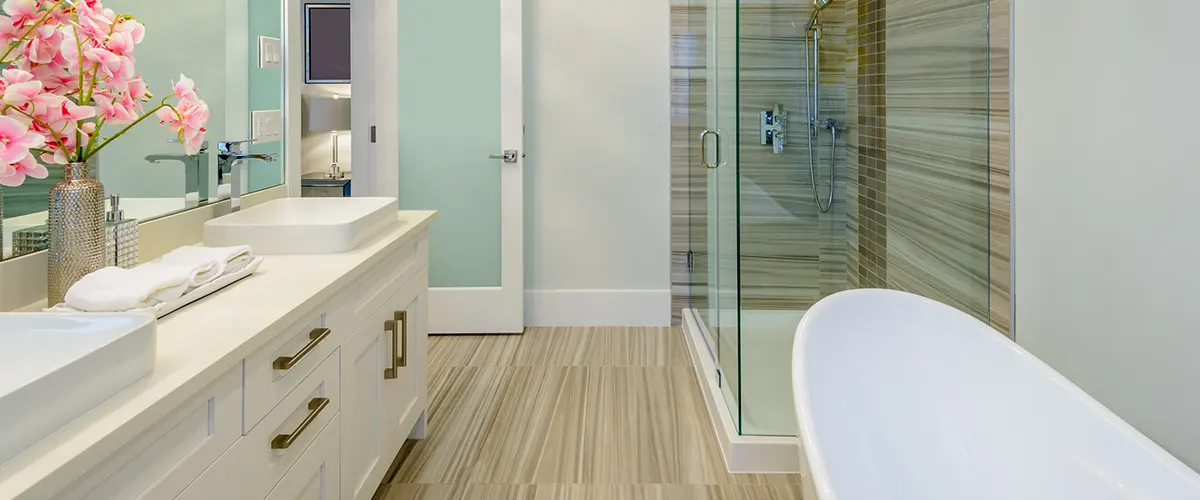 What To Consider For Your Bathroom Hardwood Flooring
The disadvantages of hardwood flooring in bathrooms shouldn't decide for you. Clearly, this type of flooring requires more attention than other options, but for a powder room or a guests' bathroom floor, installing wood floors remains an excellent option.
Let's see a few things worth considering before you decide.
The best way to avoid water spills on a wood floor is by installing shower and tub surrounds. A porcelain tile or LVT is a great way to stop water from reaching your flooring, and it also provides a nice look to your bath.
These are common upgrades that improve the functionality of every bath. So even if you don't have a hardwood bathroom floor, installing shower and tub surrounds is a great idea. A strong exhaust fan, bath mats, and regular maintenance with a good sealer will offer your solid wood floor a great moisture barrier.
Keeping An Eye On Plumbing
Most flooring damage comes from the bathroom subfloor, from a failure of your plumbing fixtures, of the or simply from water accumulating there.
Before you install hardwood flooring in bathroom, check the plumbing system and make sure it functions properly. Check the valve connections, the pipes running underneath the bathroom flooring, and the hot and cold water lines for any water droplets.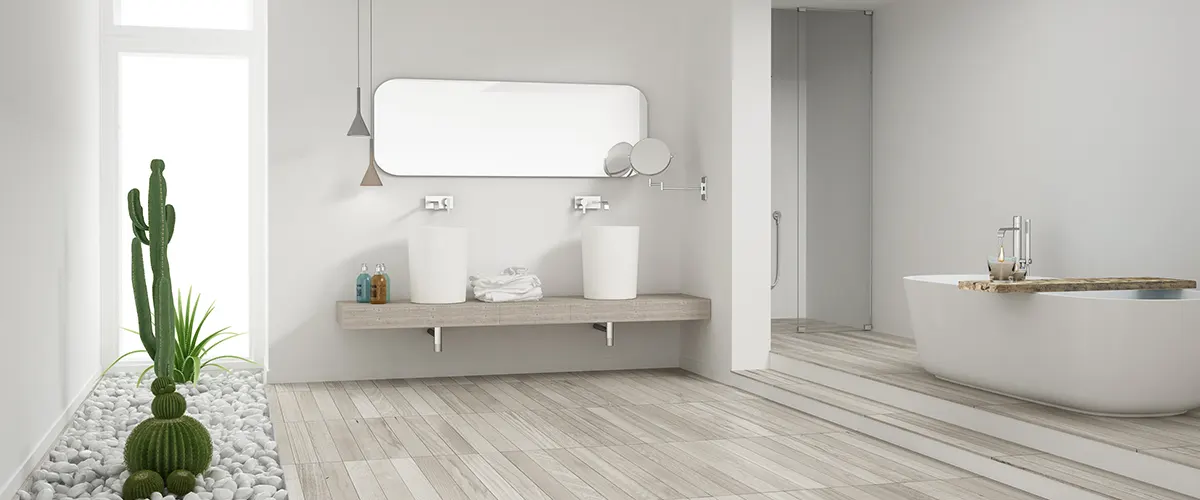 Hardwood flooring options like ebony, cherry, live oak, and bamboo are said to be the most durable and toughest choices out there. If you're looking to have a quality hardwood floor at the cost of a heavier price tag, choose one of these options. Engineered hardwood flooring is also an increasingly common option.
At Randy Stewart's Hardwood Flooring, we'll go through each and every one of your options to ensure you're making an informed decision, impossible to regret.
For hardwood floors, the most popular – and also efficient – type of finish is the polyurethane. It increases the durability of your hardwood floor and makes it even better at sustaining constant traffic. Both oil-based and water-based polyurethane are good options that won't fail you.
It's true that hardwood flooring in bathrooms are decreasing in popularity. And it's only natural for that to happen with all the new materials coming out.
Luxury vinyl tile (LVT) and luxury vinyl planks (LVP) are incredible choices that look similar to hardwood, are more affordable, and are easier to maintain as well.
However, nothing compares with the beauty of a hardwood floor.
This flooring material is sure to uplift your bath and make it the comfortable and welcoming place it needs to be.
If you're still trying to decide between getting a hardwood floor for your bathroom or another material, get in touch today! It costs you nothing to call and discuss your project with your local hardwood floor installer in South Carolina.