The Best Hardwood Floor Refinishing In Charleston SC
If you're looking to get the best hardwood floor refinishing in Charleston SC, you've come to the right place.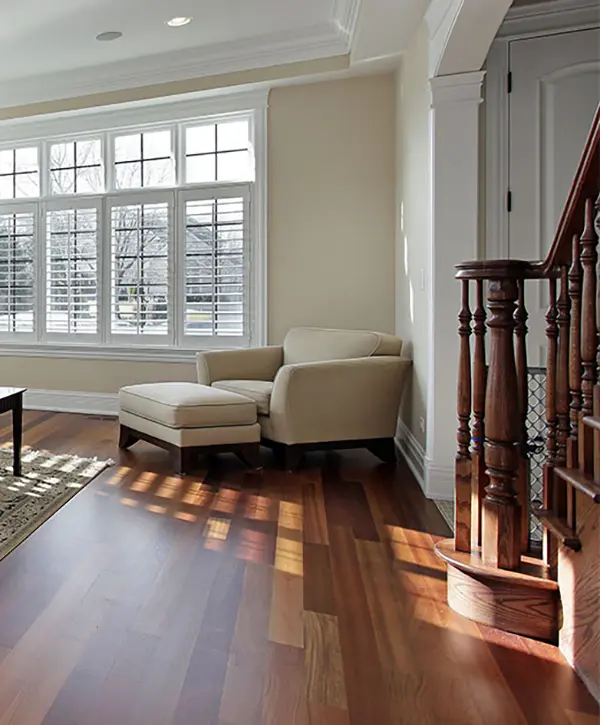 If you have hardwood floors in your home you're most likely to never want to change them, especially if they match the style of your space.
Luckily enough, hardwood floor refinishing in Charleston SC is doing great, and here at Randy Stewart Hardwood Flooring we aim to break the limits and bring all hardwood floors back to their former glory.
In over 20 years of flooring experience, we've learned how to make any type of hardwood floor shine again, and we're not stopping here!
Revamp Your Hardwood Floor With Extra Perks
Our mission is to over deliver and save you from spending time on an entirely new floor. We're doing more than just refinish your hardwood floor because we want you to be 100% satisfied with your end product.
With Randy Stewart Hardwood Flooring, you'll also get:
Get The Only Pros On Your Hardwood Floor Refinishing Project
When it comes to hardwood floor refinishing in Charleston, the number of trustworthy companies that can take on your project is far from abundant.
In fact, we're among the very few National Wood Flooring Association certified professionals in your area. We dedicated over 20 years of carpentry, floor installation, and floor refinishing to offer you the best possible end product that'll leave you breathless.
Besides superior craftsmanship, you'll also enjoy a simple and quick process where you and your preferences are at the front and center of our work. We'll listen, advise, and apply all your requests so you can get your hardwood floor to look like new.
Check out our hardwood floor refinishing in Charleston offer and request your free quote right now so we can get started!
Charleston Homeowners Love Their Refinished Hardwood Floors!
Randy and his team refinished and added to our 20 year old wood floors.
Our floors were the typical orange colored pine thin planks with some small areas of damage. The result was stunning, a huge facelift for our home. The floors look like new and the additional portions match perfectly. 
Randy was very responsive throughout the process and cost effective as an extra added bonus!
Highly recommend his services.
We purchased a home with original oak parquet floors that required refinishing, patching and filling.
We wanted to maintain the original aesthetic of the parquet but with a more modern light look. We are in love with our new floors!
Randy and his team did a fantastic job. I also appreciated his knowledge and patience with me throughout the process (I work in Interior Design and tend to be indecisive).
Thanks Randy!
Types Of Hardwood Floor Finishes
The best part about refinishing hardwood floors is that you can make them look completely different depending on the type of finish you choose.
At our on-site consultation, we'll show you samples and explain to you how every finish acts differently. Until then, let's discuss the most popular hardwood finishes.
The most popular surface finishes are oil-based and water-based polyurethanes.
Water-based poly is harder than oil-based, which means that it is more susceptible to surface abrasions, whereas oil-based poly is more prone to denting.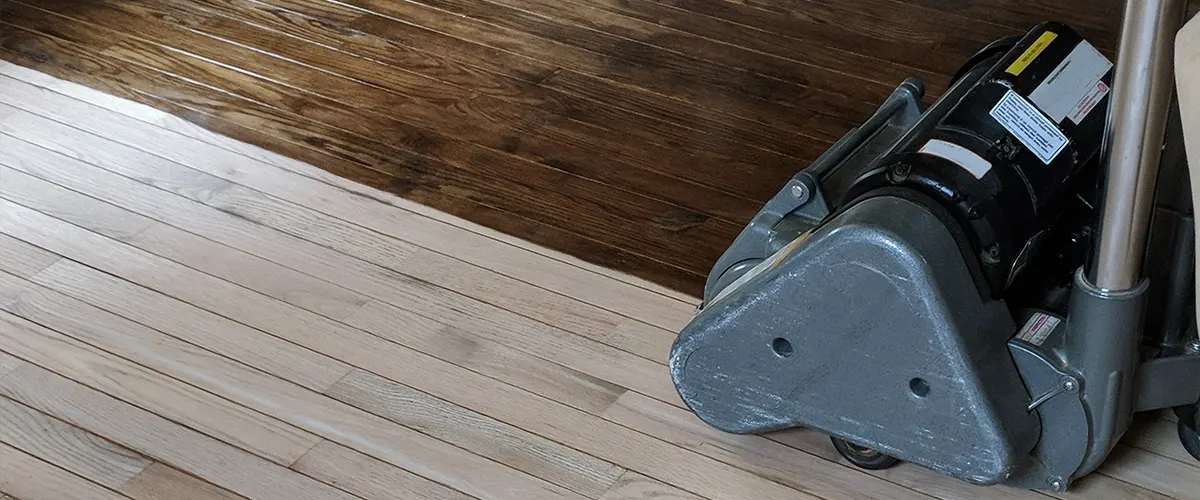 Shellac is native to India and Southeast Asia, and it's created from a resin found in the lac beetle. It has no odor and is extremely quick drying, which can make the application process more difficult to avoid lap lines.
Shellac has excellent adhesion characteristics, making it a great choice when working with oily woods, like some exotic tropical species, or with pitchy woods, like pine.
Shellac is less durable than the urethane finishes, but because it dries very quickly it works great to touch up damaged areas.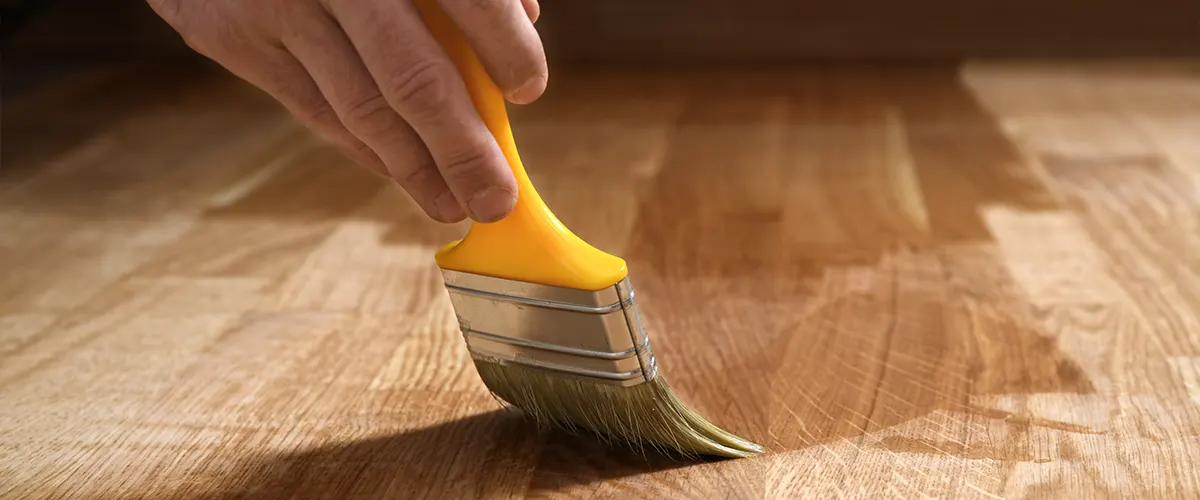 Acid-cured finish (or Swedish finish), is a quick-drying, slow-curing, extremely durable option best used on exotic wood floors or those with elaborate patterns, like parquet flooring. In addition to its durability, an acid-cured finish is also highly transparent, and elastic.
On the downside, this finish has very high VOC content which is harmful for humans. It also has a long and difficult application process which requires a professional.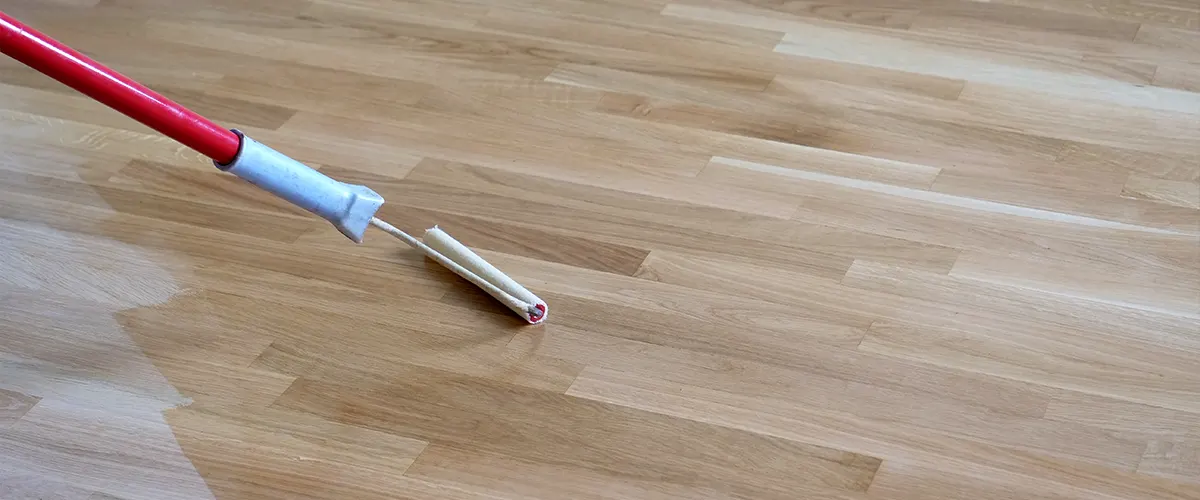 Oil sealers are very often used to floor refinishing.
Oil has a more mellow, lower luster sheen than polyurethane finishes. Aesthetically, oil sealers are great because they penetrate the wood incredibly well, deepening its color and highlighting the natural wood grain.
Oil sealers are combinations of highly modified natural oil, most often linseed or tung oil, with different additives to improve hardness and drying. Oil is less durable than polyurethanes, but it's easier to apply, won't crack, craze, or peel.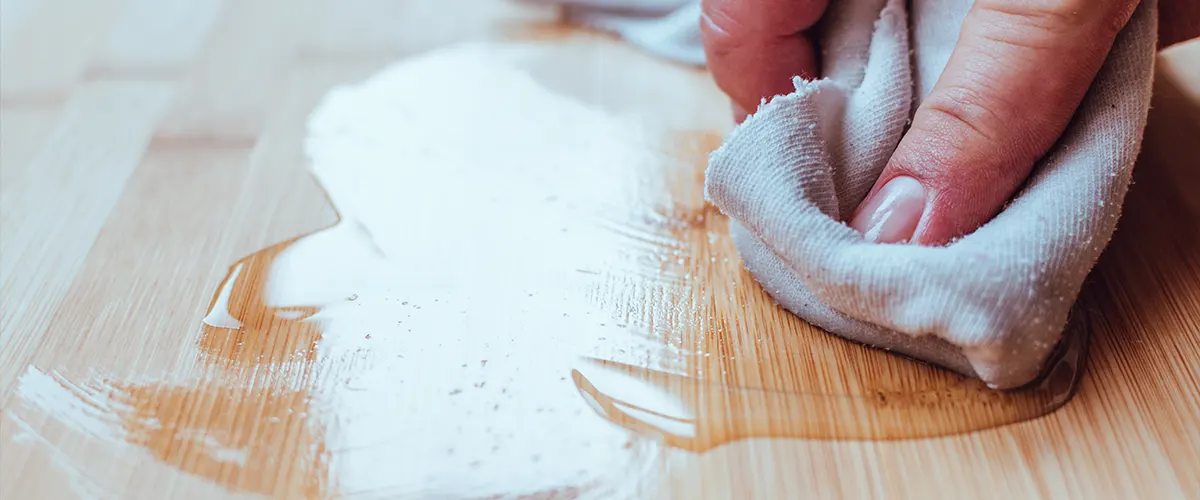 Hard wax oils are non-toxic and emit no-VOC, while at the same time they permeate the wood and act as a barrier against stains and moisture, preventing warping and weakening. Hardwood floors with this finish are more water resistant than polyurethane-finished floors.
Hard wax oils come in different colors, from clear to dark amber, and all of them can create a warm, natural matte appearance.
The application process is quick and easy, and the repair process is even easier. Water spots can be repaired with just a light sanding of the affected area, followed by a topical coat of oil.
The only downside is that floors finished with hard wax oil require a periodic coat of maintenance oil. Luckily, the process is easy and can be accomplished by the homeowner.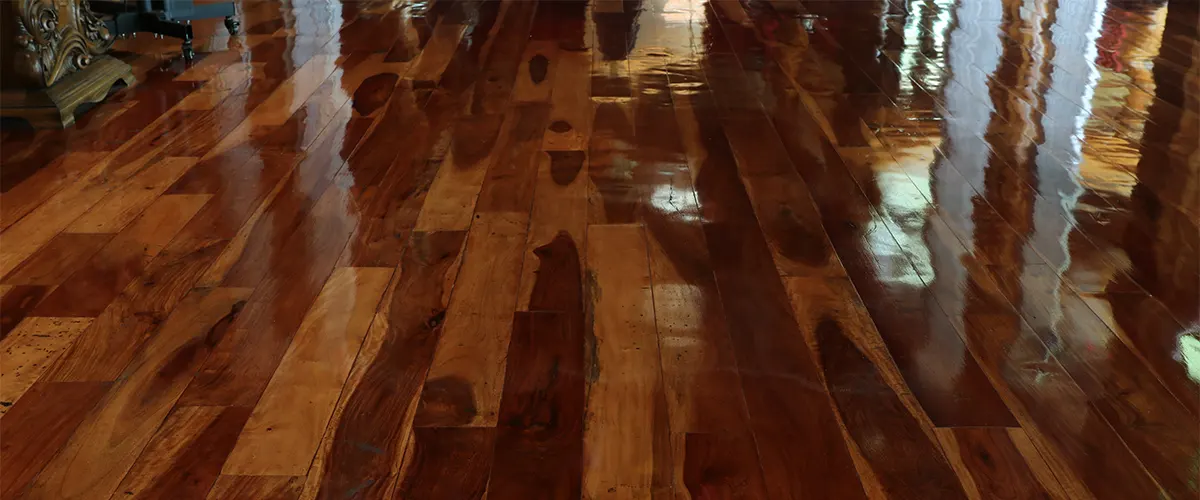 Make Your Hardwood Floor Look Like New
We've refinished hardwood floors everywhere, from renown museums to historical houses.
Check out our gallery and see what your hardwood floor refinishing in Charleston SC can look like!
The Best Hardwood Floor Refinishing Process
We know working on your home can get stressful, which is why we made the entire process to get started extremely fast and easy. During the project, you're ensured through communication so you'll be in control of everything.


We start your project as soon as you're ready.

Enjoy your new, refinished hardwood floors!
Frequently Asked Questions
The base hardwood floor refinishing in Charleston SC is around $3.5k. This would be a 300-500 square feet space with cleaning and refinishing. The average refinish is around $6k for a 800-1200 square feet space, and a high-end restoration can be over $7.5k.
On our in-home visit we'll go over the materials and the labor involved, and you'll get an exact quote for your refinishing project.
Our base hardwood floor refinishing takes about a day. More difficult projects, like refinishing a hardwood flooring in the entire home, can take up to three days.
We put quality first, and then worry about the time it takes us. If your project requires extensive attention and care, be sure we'll spend more time making sure we're getting it right.
Yes! At Randy Stewart's Hardwood Flooring, we use state-licensed and insured contractors. We are one of the few flooring businesses that is a member of the National Wood Flooring Association in Mount Pleasant, South Carolina.
Our work is governed by the motto "Quality Through Pride In Craftsmanship", which is why you'll enjoy nothing but the highest standards of work and customer service possible!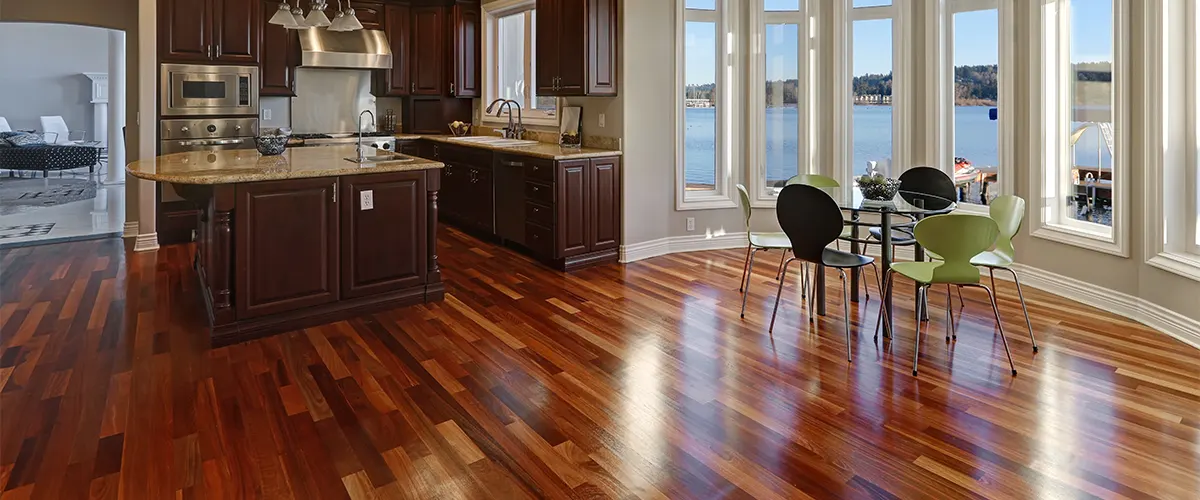 Get A Superior End-Product Right From Your Local Pros
Your hardwood floor refinishing in Charleston SC is an impressive project that deserves a real professional to take care of it.
At Randy Stewart Hardwood Floors, we focus on a simple and quick process to get started, and our final goal is for you to fall in love with your home again. We know hardwood floors bring a different vibe to every home, and we're dedicated to making our customers fully satisfied with their new floors.
With us, you're getting:
Let Your Hardwood Floors Shine Again!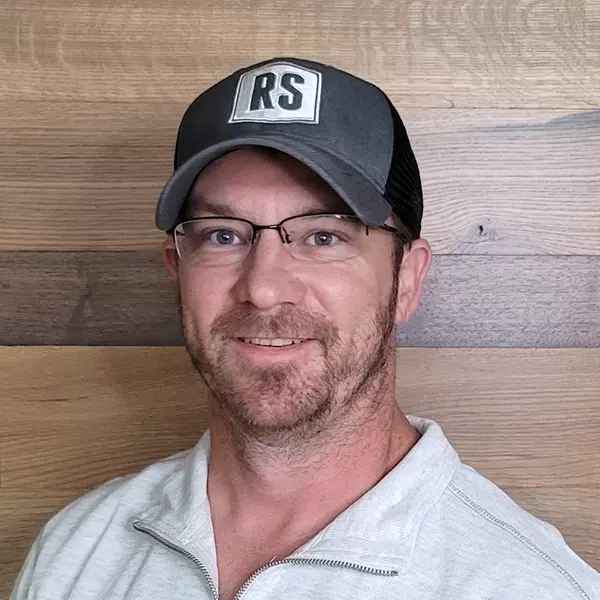 Call us at (843) 900-4880 and let's discuss your upcoming hardwood floor restoration! Or fill out our contact form and we'll reach back to you as soon as possible.