The Best Hardwood Floor Refinishing In Mount Pleasant SC
If you're looking to get the best hardwood floor refinishing in Mount Pleasant SC, you've come to the right place.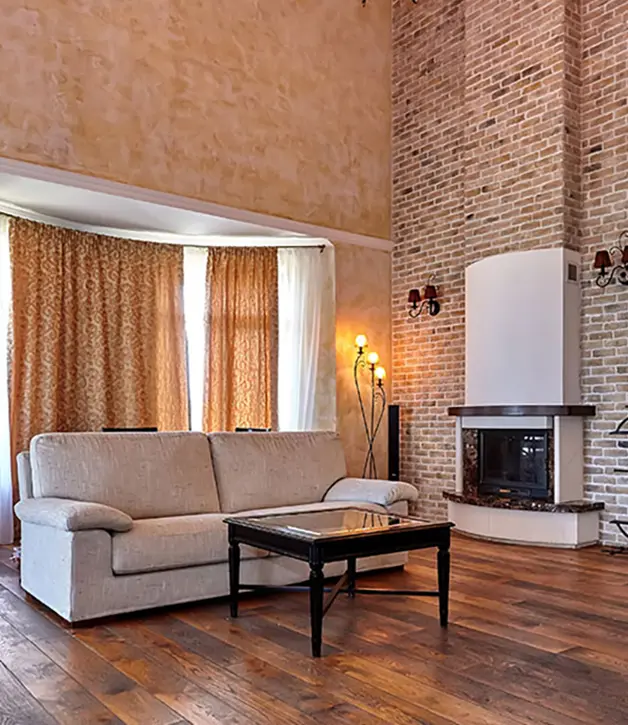 Hardwood floor refinishing can be a daunting task, but with Randy Stewart by your side, it doesn't have to be. We offer a simple and efficient process that helps you get your floors refinished in record time!
We focus on quality workmanship and customer satisfaction, which is why you'll get a 100% satisfaction guarantee on your new wood floors.
If you're looking for the best hardwood floor refinishing in Mount Pleasant SC, look no further than Randy Stewart Hardwood Floors!
A Floor Refinishing Project That Comes With Extra Perks
We want to give you a unique experience that you can't find with other contractors. We'll go above and beyond to make sure you're happy with your new hardwood floors.
With us, you're also getting:
Your Premium Hardwood Floor Refinishing In Mount Pleasant SC Is Here!
Finding the right hardwood floor refinishing company can become overwhelming. People don't appreciate wood floors like they used to, as more and more flooring materials are coming up, each with different properties.
Randy Stewart is one of the very few certified members of the National Wood Flooring Association, which is why we constantly over deliver and dedicate ourselves to give you the best end-product possible.
We're focusing on a quick and intuitive process that helps us get through your project efficiently, and without any major setbacks. We make a priority out of your needs and wants, as we know this is what gets you your desired product!
Charleston Homeowners Love Their Refinished Hardwood Floors!
When we enlisted Randy's help with our flooring, we were dealing with multiple different floor/tile types in the downstairs alone.
We lived with it for 7 years and we were ready to have it be all wood and flow smoothly. We contacted Randy and he came out that same week with an estimate. His crew showed up on time and were ready to work once they walked in the door.
They worked very hard and never cut a corner. One of the days was stopped short due to needing to use self leveler in one section when they could have just kept going instead. We are absolutely loving our new floors and how beautiful it looks.
The attention to detail, friendliness and work ethic of the crew is second to none. I highly recommend using Randy Stewart's Hardwood Flooring!
We had an issue with the original poly on our foyer floors bubbling. I went to try and fix it myself and made it look worse.
We called Randy Stewart and his team came in and buffed everything out, fixed the repair attempt that I created, and left the floors looking brand new.
He was incredibly upfront throughout the process and honest that since he didn't do the floors originally, it may not be a perfect match with the stairs, but it turned out better than I could've imagine.
I would whole heartedly recommend Randy and his team for any job, big or small.
Thanks Randy!
Types Of Hardwood Floor Finishes
There are many types of finishes, each of them with a different functionality and look. Some will emphasize the natural wood grain, others will darken its color, while others will give it a glossy look that makes your floors appear brand new.
At our on-site visit, we'll breakdown each type of finish available and our experts will advise you on what finish will work best for your home.
Let's discuss the most popular finishes.
Polyurethanes can be oil-based and water-based polyurethanes.
The most significant distinction between these two is that water-based poly is more difficult to scratch than oil-based, making it more prone to surface abrasion, and oil-based poly is more likely to dent.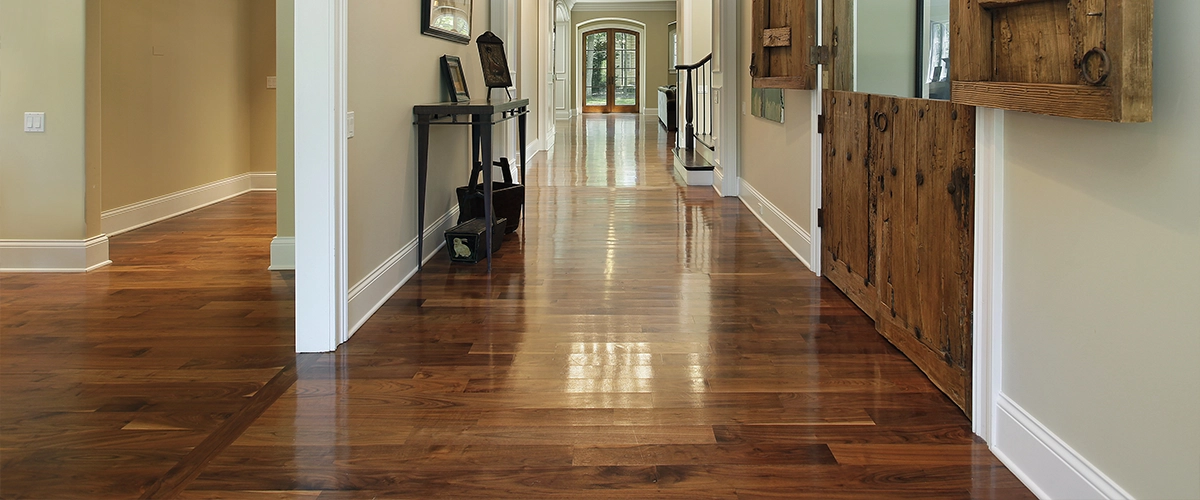 Shellac comes from India and Southeast Asia. It's created from a resin found in the lac beetle, extracted, and manufactured to create this special finish. Shellac doesn't smell and dries extremely fast, making the application process a bit of a challenge.
Shellac has great adhesion properties, so it's recommended on oily woods, like exotic tropical species, or on pitchy woods, such as pine.
A major downside of the Shellac finish is that it doesn't last as long as the polyurethane finishes. However, because it dries very quickly, it works great to fix up damaged areas.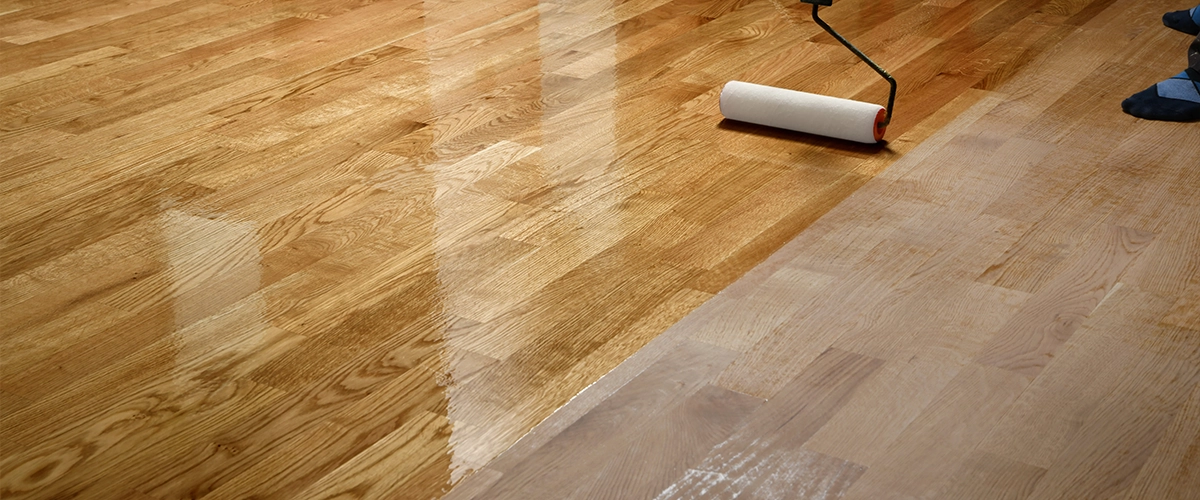 The acid-cured finish is quick-drying, slow-curing, and an extremely durable finish option for exotic wood floors or those with elaborate patterns, like parquet. This keeps the wood safe from water spills and minor scratches.
Although it has great durability, this finish is also highly transparent and elastic, which makes it great if you want to protect the wood surface but also keep the natural wood grain of the wood visible.
The major downside of the acid-cured finish is that it has high VOC content which is harmful for humans. Besides this, the acid-cured finish takes a lot of time to apply, so you might want to hire a professional with the right tools to do it for you quicker, safer, and more efficiently.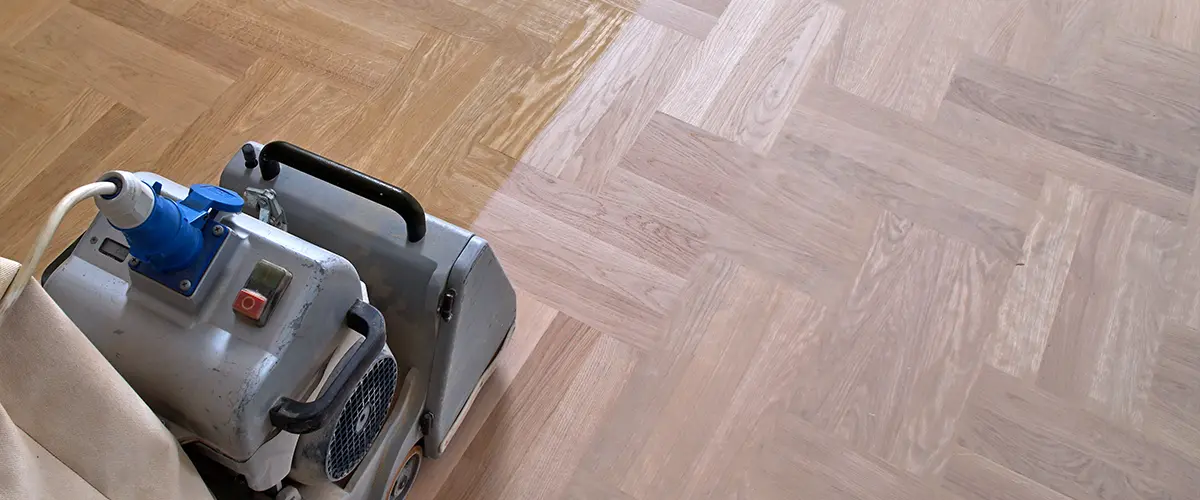 Oil sealers are great wood finishes because they keep the natural appearance of wood and emphasize the wood grain.
Oil has a more mellow, lower luster sheen than polyurethane finishes. They're great because they penetrate the wood better than any other finish, deepening the wood's color and highlighting the natural wood grain.
Oil sealers are oils that have been refined or modified in various ways to make them harder and dry faster. Oil is less durable than polyurethanes, but it's easier to apply and won't crack, craze, or peel.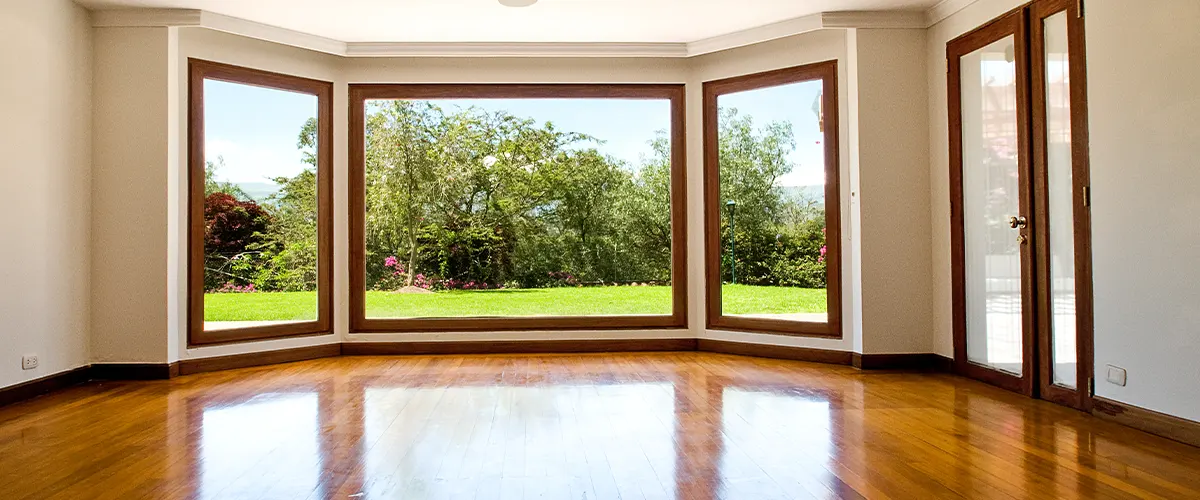 Wax oil is an alternative to wax that penetrates the wood and serves as a barrier against stains and moisture, warping, and weakening, but without the VOC contents. A wood floor with a hard wax oil finish will have a greater water resistance than hardwood floors finished in polyurethane.
Waxes are also very versatile, coming in a wide range of styles and colors that can create a variety of visual effects. The application process is simple and quick, and so is the repair.
The only disadvantage is that floors polished with hard wax oil require a coat of maintenance oil on a regular basis. Fortunately, the operation is simple and may be completed by the homeowner.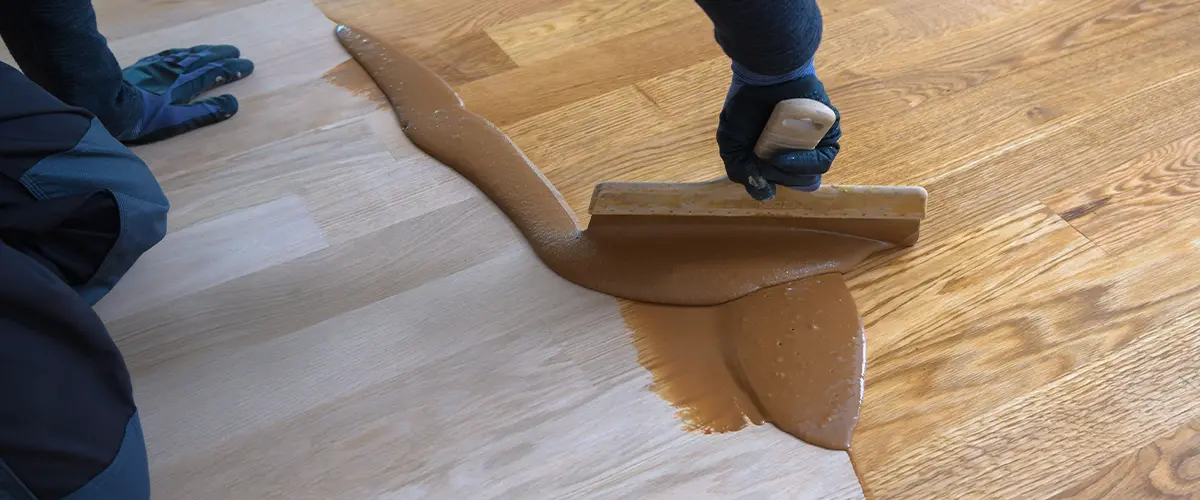 Bring Your Wood Floors In Mount Pleasant Back To Life
Check out some of our projects and see how yours can turn out! Find inspiration for your hardwood floor refinishing in Mount Pleasant SC and get your project started!
The Easiest Process For Hardwood Floor Refinishing In Mount Pleasant
We know floor refinishing is a big step for your home and a worthwhile upgrade. Which is why we want you to enjoy the full refinishing experience and love it!
Our process is built to satisfy your needs and wants, all while making your remodeling experience a unique and memorable journey.


We start your project as soon as you're ready.

Enjoy your new, refinished hardwood floors!
Frequently Asked Questions
A simple hardwood floor refinishing in Mount Pleasant SC costs between $3.5k for a 300-500 square feet space to $7.5k for a space over 2000 square feet. Both of these include repairs and the finish material.
After our consultation you'll get an accurate pricing estimate so you'll know exactly how much to budget and what to expect from your project.
Refinishing a hardwood floor for a 500 square foot space can take as little as a day, depending on the repairs needed and your type of finish. For a larger space with a more complex flooring pattern, like a herringbone design, the process can take much longer.
On our first visit, we'll get to see the scope of work and we'll give you a more precise time frame.
Yes! At Randy Stewart's Hardwood Flooring we work with licensed and insured tradesmen. In fact, we're among the very few flooring contractors part of the National Wood Flooring Association.
Our work is governed by the motto "Quality Through Pride In Craftsmanship", which is why you'll enjoy nothing but the highest standards of craftsmanship and customer service.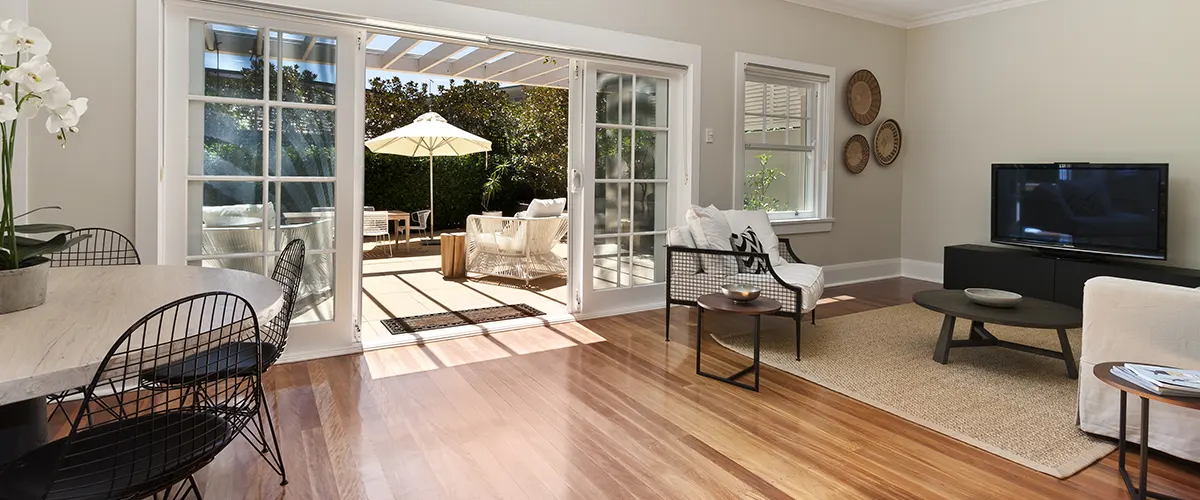 Get A Superior End-Product Right From Your Local Pros
If you're ready to start your hardwood floor refinishing in Mount Pleasant SC, now is the best time to do it!
Randy Stewart Hardwood Floors Mount Pleasant SC is dedicated to making your renovating experience as seamless as possible. We're in constant communication with you so that we always know what you need and want.
Your overall satisfaction is our top priority, and we're always aiming to make you fall in love with your hardwood floors again.
Besides a pristine new wood floor, you'll also get:
Let Your Hardwood Floors Shine Again!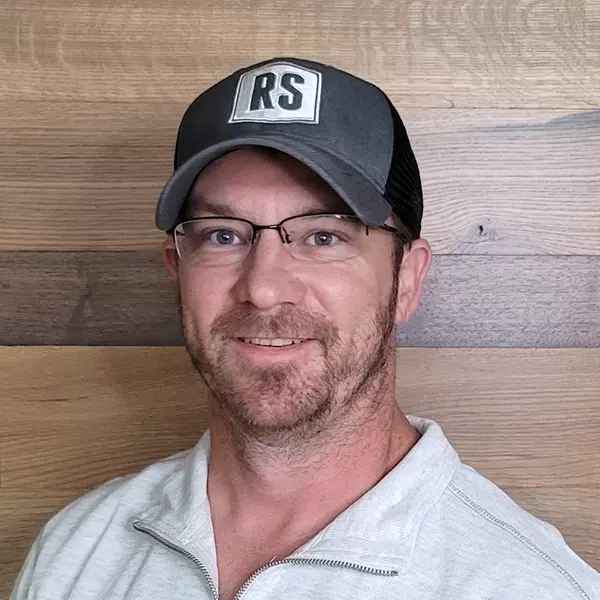 Call us at (843) 900-4880 and let's discuss your upcoming hardwood floor restoration! Or fill out our contact form and we'll reach back to you as soon as possible.