The Best Hardwood Floor Refinishing In North Charleston, SC
Looking to refinish your hardwood floors in North Charleston?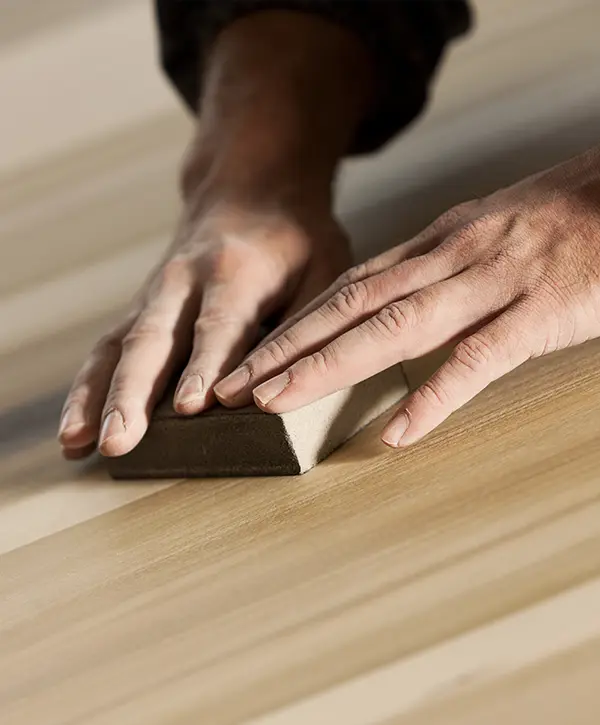 Over time, wood floors will start showing wear and tear, and if you're not yet ready to restore or replace them altogether, they'll need to be refinished.
At Randy Stewart Hardwood Floors, we offer a complete, professional wood floor refinishing service that'll guarantee every single dollar you spent is well-invested.
By the end of your project, you get to enjoy beautifully refinished floors that look great and function at 100%, just like the day you first installed them.
We strive to consistently deliver outstanding results that exceed our client's expectations.
A Floor Refinishing Project With Extra Benefits!
A new wood floor will immediately brighten up any room – they'll look cleaner, newer, and more vibrant. But to make this happen, you need a reliable refinishing service that can get the job done right.
With Randy Stewart Hardwood Flooring, you'll also get:
A Highly-Efficient Floor Refinishing Service In North Charleston SC
With the decreasing number of hardwood floor experts, it's more challenging than ever to find a reliable company to restore your hardwood floors and help them reach their true potential.
Our National Wood Flooring Association certification makes Randy Stewart Hardwood Floors one of the very few companies in North Charleston that are worthy of your trust. With over 20 years of experience in refinishing and installing floors, so you can be sure that your end product will match or exceed your expectations.
Not only do we promise excellent craftsmanship, but we also deliver it. We'll keep your needs always in mind, and we guarantee that you'll love your new floors so much that you'll show them off to your friends and family for years to come!
Check out our hardwood floor refinishing offer in North Charleston! Get high-quality wood floors in your home today!
North Charleston Homeowners Love Their Refinished Hardwood Floors!
Refinishing wood floors is our passion, and the feedback we receive is proof of how far we and our complete service have come. Check out what people say about working with us.
When we enlisted Randy's help with our flooring, we were dealing with multiple different floor/tile types in the downstairs alone.
We lived with it for 7 years and we were ready to have it be all wood and flow smoothly. We contacted Randy and he came out that same week with an estimate. His crew showed up on time and were ready to work once they walked in the door.
They worked very hard and never cut a corner. One of the days was stopped short due to needing to use self leveler in one section when they could have just kept going instead. We are absolutely loving our new floors and how beautiful it looks.
The attention to detail, friendliness and work ethic of the crew is second to none. I highly recommend using Randy Stewart's Hardwood Flooring!
We had an issue with the original poly on our foyer floors bubbling. I went to try and fix it myself and made it look worse.
We called Randy Stewart and his team came in and buffed everything out, fixed the repair attempt that I created, and left the floors looking brand new.
He was incredibly upfront throughout the process and honest that since he didn't do the floors originally, it may not be a perfect match with the stairs, but it turned out better than I could've imagine.
I would whole heartedly recommend Randy and his team for any job, big or small.
Thanks Randy!
Types Of Hardwood Floor Finishes
The overall look of your hardwood floors is highly impacted by the kind of finish you select.
Our consultation will introduce you to each type of finish and what it entails. You will be able to choose with the help of our experts, who know all there is about flooring maintenance. 
There are two primary types of polyurethanes: oil-based and water-based. Let's explore the key distinctions between these two materials.
Another major difference between these two is that water-based poly is harder than oil-based, making it more susceptible to surface abrasions, and oil-based poly is more prone to denting.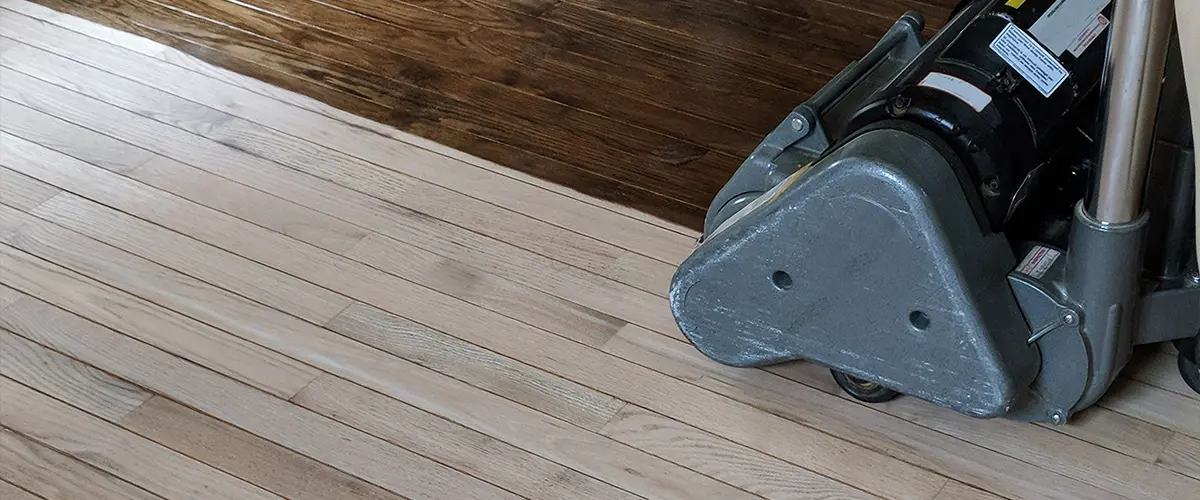 Shellac is created from the lac beetle and hardens to produce a slightly amber, clear finish. It first originated in India but has since spread to Southeast Asia. Because it dries so rapidly, you must be mindful of avoiding lap lines while applying shellac.
Since it has such terrific adhesion, this product is ideal for working with oily woods like tropical species or tacky Woods like pine.
The Shellac finish, like the polyurethane finish, is less durable than the epoxy or urethane top coats. It dries quickly, making it ideal for spot repairs.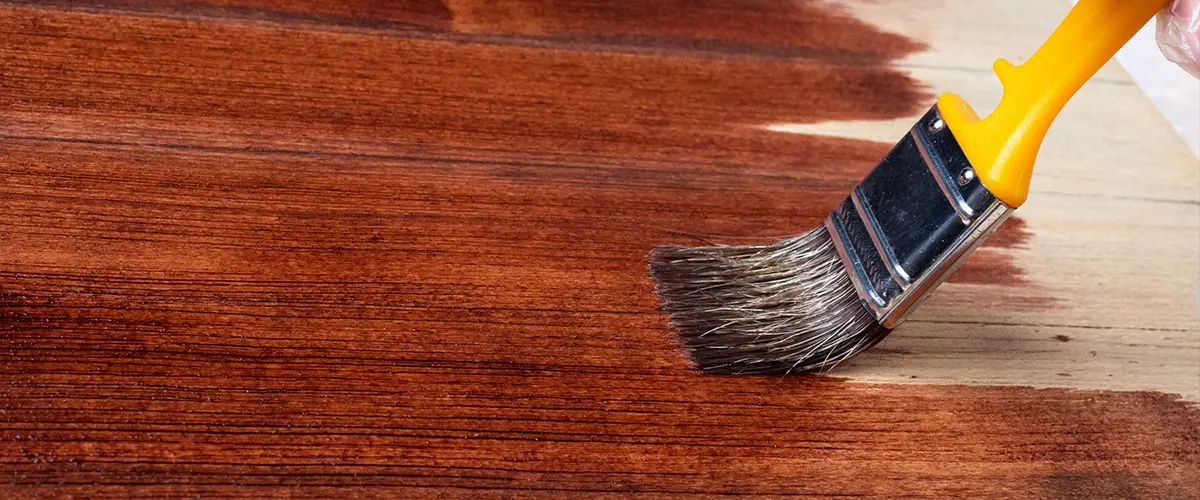 The Swedish finish, or the acid-cured finish, is a suitable sealing options for floors made of exotic wood or with intricate patterns like parquet. These finishes cure quickly, last long, and provide excellent protection against wear and tear.
Besides its durability, this finish is also highly transparent, and elastic, making it great if your want to keep the natural wood grain of the wood.
Although this finish looks great, it contains high levels of VOCs which can be harmful to humans. If you're running low on time, applying an acid-cured finish is tough and takes a long while; in this case, you might want to hire someone else to do it.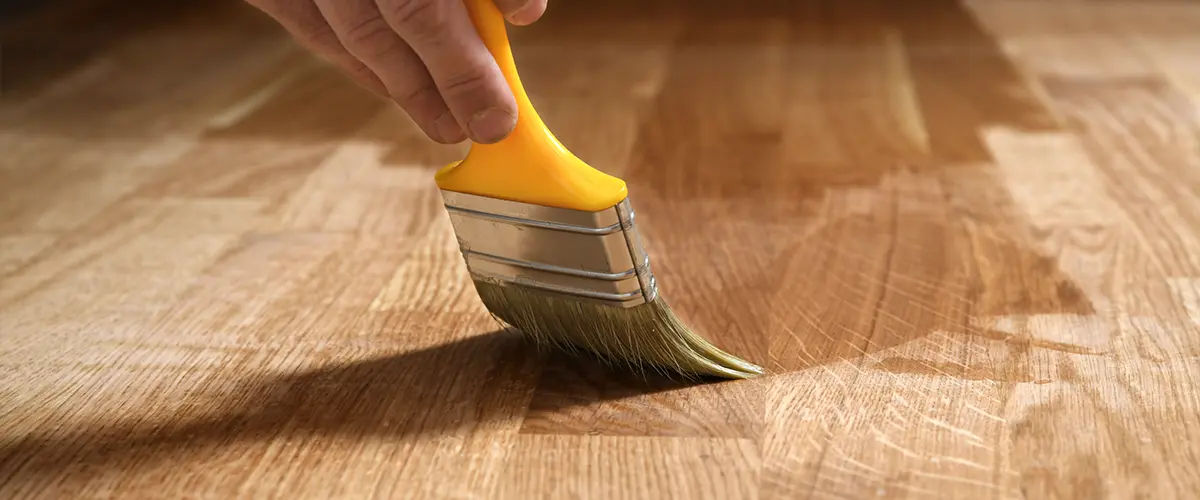 Oil sealers are used to refinish floors because they preserve the wood's natural appearance while enhancing the grain.
Oil finishes have a softer, low-luster sheen than polyurethane. They're also great because they seep into the wood better than any other type of finish, darkening its color and emphasizing the natural grain.
Oil-based sealers have been refined or modified to make them more durable and dry faster. Oil is less durable than polyurethane, but it is easier to apply and will not crack, craze, or peel.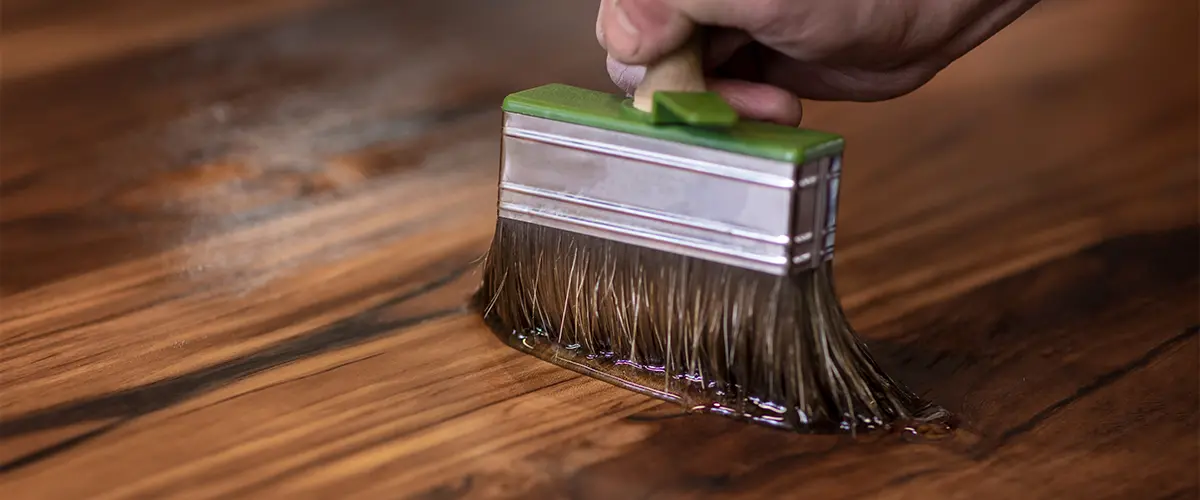 Wax oil is an eco-friendly option to wax that penetrates the wood grain and protects against spills and moisture. This finish stops hardwood floors from warping or weakening, making them more resistant to water than those finished with polyurethane.
Like painting, there is a multitude of ways you can use wax to achieve different aesthetic results.
The repair method is straightforward and brief, and the healing process is even easier. Water stains are removed with a gentle sanding of the afflicted area followed by topically applied oil.
The only disadvantage of hard wax oil is that it requires regular maintenance coats. Fortunately, the process is easy and may be completed by the homeowner.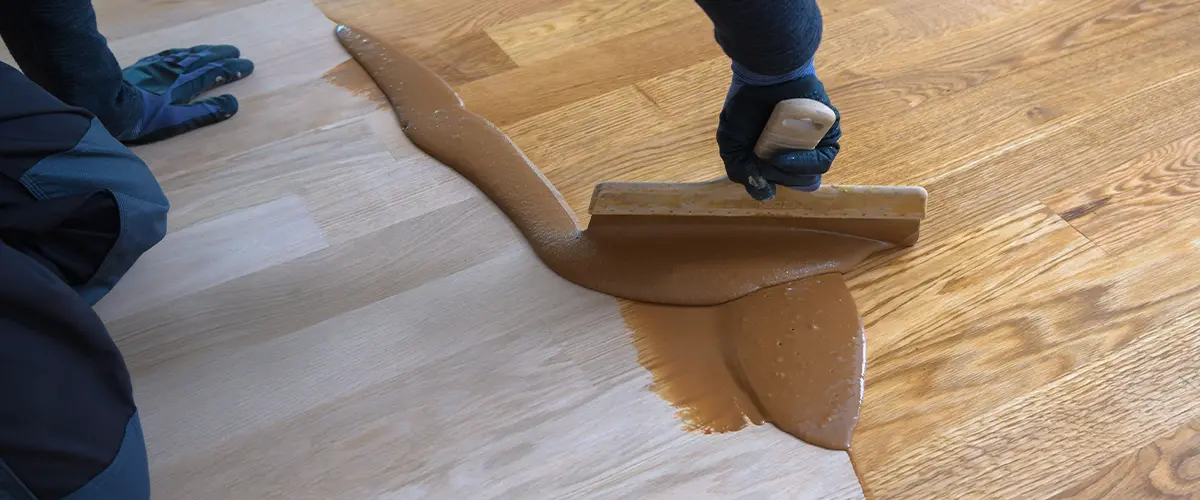 Bring Your Wood Floors In North Charleston Back To Life
Take a look at our finished projects below to see what yours could potentially turn out like! North Charleston has plenty of hardwood floor refinishing ideas, so start working on yours today!
Hardwood Floor Refinishing In North Charleston Has Never Been Easier
With us, you won't have to lift a finger for your North Charleston hardwood floor refinishing project! We'll take care of everything from top to bottom while you sit back, relax, and watch your wood floors come back to their former glory.


We start your project as soon as you're ready.

Enjoy your new, refinished hardwood floors!
Frequently Asked Questions
A basic hardwood floor refinishing in North Charleston, South Carolina costs around $3.5k for a 300-500 square feet area, with cleaning and refinishing. An average refinished area is around $6k for an 800-1200 square feet room, while a high-end restoration can cost over $7.5k.
After our consultation, you'll get an accurate pricing estimate so you'll know exactly how much to budget and what to expect from your project.
A space of 300-500 square feet can be refinished in about two to three days. Hardwood floor refinishing in the whole house might take up to one week, depending on the complexity of the job. If you want a more intricate design, such as herringbone flooring, you'll need an extra day or two.
Before anything else, we want to provide you with a high-quality product. We can spend another day making sure your wood floor is brand new, but we would never call it a day without making sure your wood floors are in excellent condition.
Yes! We work with licensed and insured professionals at Randy Stewart's Hardwood Flooring. In fact, we're one of the few flooring contractors belonging to the National Wood Flooring Association.
Our work is governed by the motto "Quality Through Pride In Craftsmanship", which is why you'll enjoy nothing but the highest standards of craftsmanship and customer service.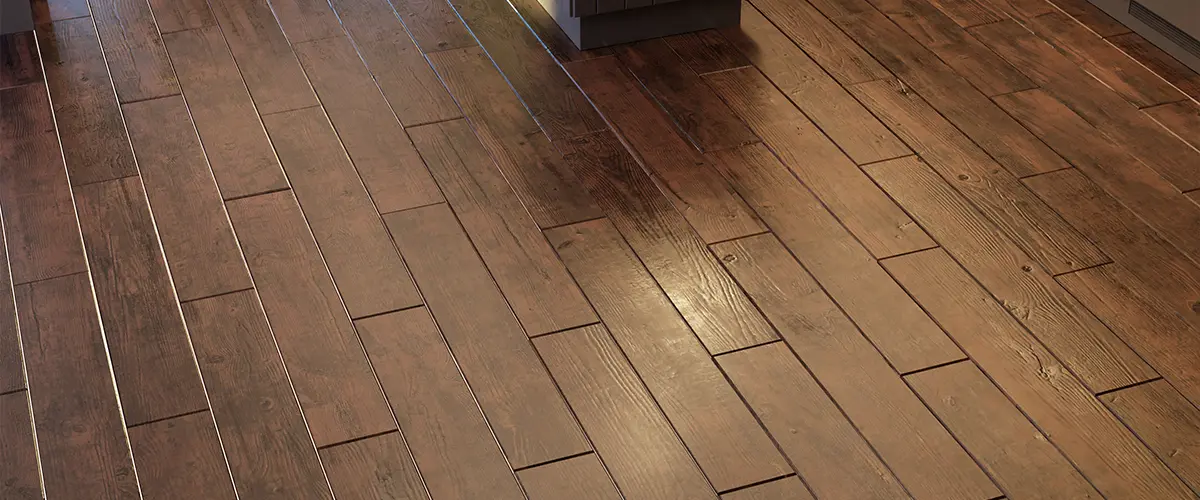 Get A Superior Wood Floor From Your Local Carpenters
If you're ready to start your hardwood floor refinishing in North Charleston SC, now is the best time to do it!
At Randy Stewart Hardwood Floors North Charleston SC, we make it easy for you to get started. We will keep you updated on the process and what is happening every step of the way. Our team is focused on your needs and preferences with the goal of seeing you happy with your brand-new hardwood floors.
You'll get honest and fair pricing, transparent communication, and high-quality craftsmanship that'll make this project a worthwhile investment!
Besides a pristine new wood floor, you'll also get:
Let Your Hardwood Floors Shine Again!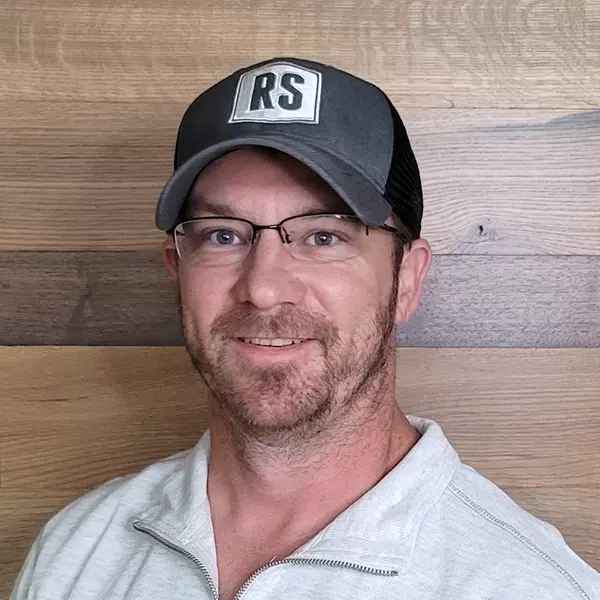 Call us at (843) 900-4880 and let's discuss your upcoming hardwood floor refinishing in North Charleston! Or fill out our contact form and we'll reach back to you as soon as possible.