If it's time to clean your hardwood floors, but you're not entirely sure how to do it safely, you're not alone.
Homeowners know plenty of water might damage a hardwood floor, excess oil is unsafe, and chemicals won't help either.
And maybe you've heard of Murphy's Oil Soap and Bona, but which one is better?
In this article, we'll discuss the difference between Murphy's Oil Soap vs Bona, and you'll find out which are the most efficient hardwood floor cleaners.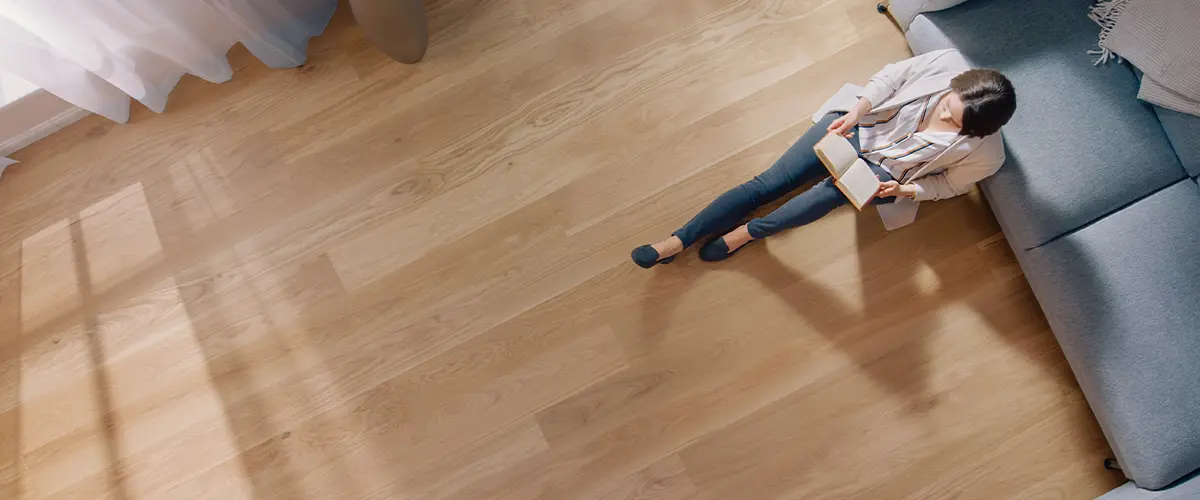 Murphy® Oil Soap is an all-purpose natural oil soap that can make your hardwood, laminate, tile, and linoleum floors gleam. But did you know it can be used for so much more? People are using this powerful cleaner on any wood surface in their homes.
Here are some of its other unexpected uses:
Refresh your outdoor furniture with the power of Murphy® Oil Soap. This cleaning solution is ideal for making plastic, metal, glass, and wood pieces look new – from patio chairs to dining tables to nightstands! Better Homes And Gardens has tested this product as a reliable option that brings back the shine to any wooden or composite furniture piece.
Transform oil soap into an all-encompassing cleaning solution for your bathroom by mixing it with water. Use the mixture on the floor, walls, showers, toilets, counters, and sinks to eliminate dust and grime – making everything look as spick-and-span as possible!
To tackle stubborn stains, use the soap at full strength on affected areas and place it in the washing machine. To maximize its effectiveness, give the mix some time to work before throwing your clothes in the washer.
Give leather surfaces and upholstery a deep clean with oil soap, but remember to avoid using it on anything made of cloth. Use the product at full strength for optimal results and apply it directly onto a dry cloth. Rub the area vigorously before buffing off any residue with another piece of fabric for that extra shine!
Get rid of pesky insects from your garden and other landscaping areas with a natural solution made of Murphy® Oil Soap, rubbing alcohol, water, cooking oil, and fresh lemon juice.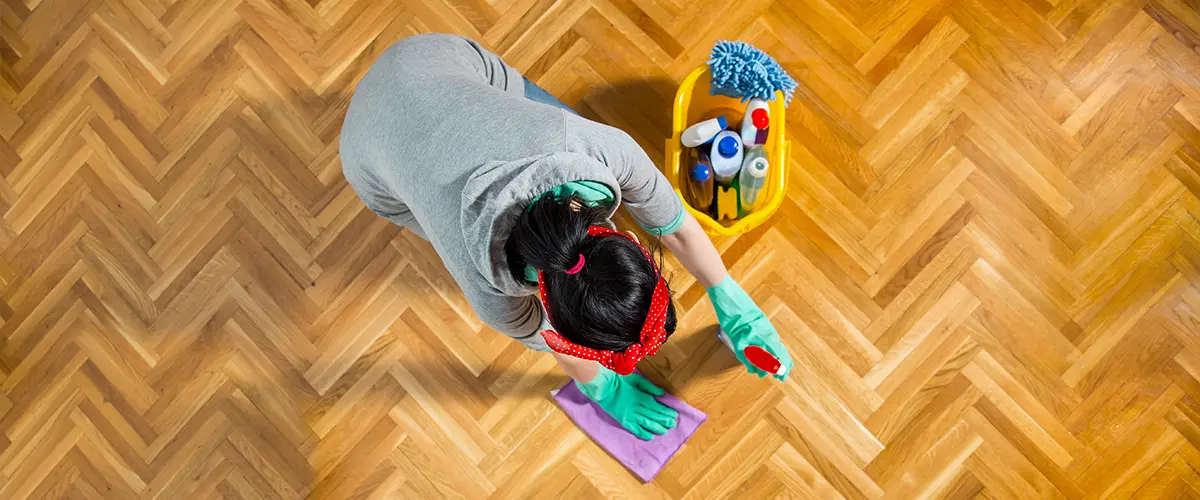 Is Murphy's Oil Soap Safe For Cleaning Wood Floors?
While Murphy's Oil Soap has been marketed as safe to clean anything for over 112 years, the truth is actually a bit more complicated.
Many people say that the product leaves their hardwood floors greasy, sticky, discolored, and dull.
The product will leave a residual buildup if used on a regular basis. If you're cleaning your wood floor with this product, try and use plain water in between each time your clean your wood floors with Murphy's Oil Soap.
To take advantage of the cleaning power of Murphy Oil Soap on wood, mix ¼ cup with a gallon of warm water. Apply this solution to the surface using a soft cloth, and afterward, wipe off any residue with a damp cloth.
You'll also need to rinse the surface multiple times.
But, is Murphy's Oil Soap safe for cleaning wood floors?
In short, the answer is NO. Murphy's Oil Soap is not entirely safe on wood floors, despite many people saying so. Long term, this product will do more harm than good to your wood floors.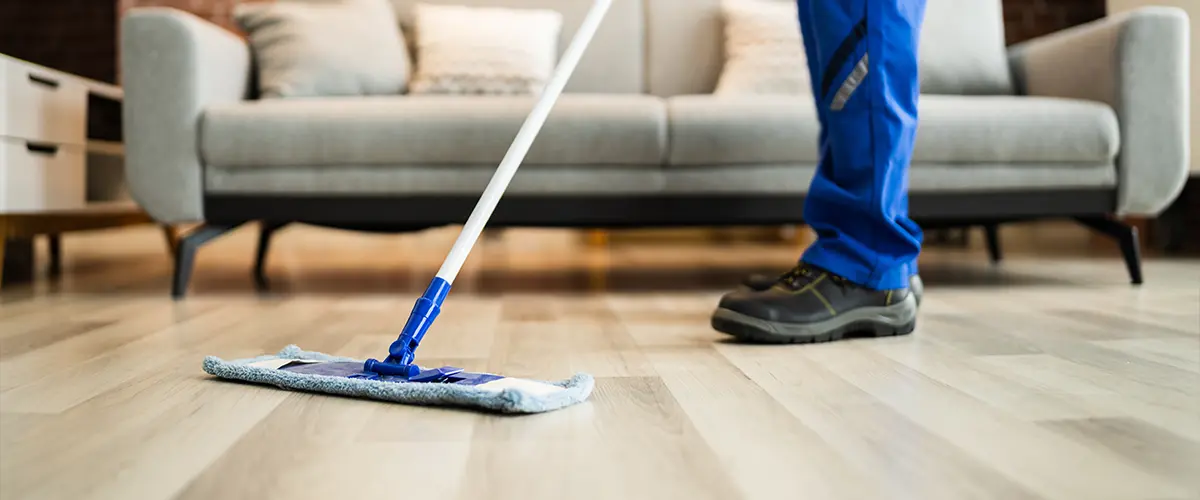 Bona protects all unwaxed, unoiled polyurethane-finished hardwood floors without leaving a trace. In addition, its water-based and pet-friendly formula is pH neutral and dries in only 90 seconds.
This residue-free solution is designed to clean hardwood flooring, laminate floors, and more. It delicately removes dirt and grime for a natural shine, leaving no debris, dust, or dirt, and it won't damage your wood floors in the long run.
We'd also recommend a dry dust mop, a sweep, and a vacuum before using the product to remove loose grit or dirt. The spray is a rinse-free formula, so you won't have to worry about anything after you've cleaned the floor.
Bona Hardwood Floor Cleaner Spray bottle costs around $8 on Amazon for 32 oz. of this product, and you can use it on laminate flooring, vinyl flooring, and wood floors.
An Easy And Affordable Alternative
Plain vinegar and water mixed with about one cup of vinegar to a gallon of water is an excellent go-to.
It's just acidic enough to clean the floors and will not leave a buildup on them; however, you still do not want to clean them very often because the water can cause a premature breakdown of the finish.
Sweeping with a soft brush or running a vacuum that will not damage the floor on a regular basis is best. Also, invest in a microfiber mop and a good wood floor cleaner for a more in-depth cleanse.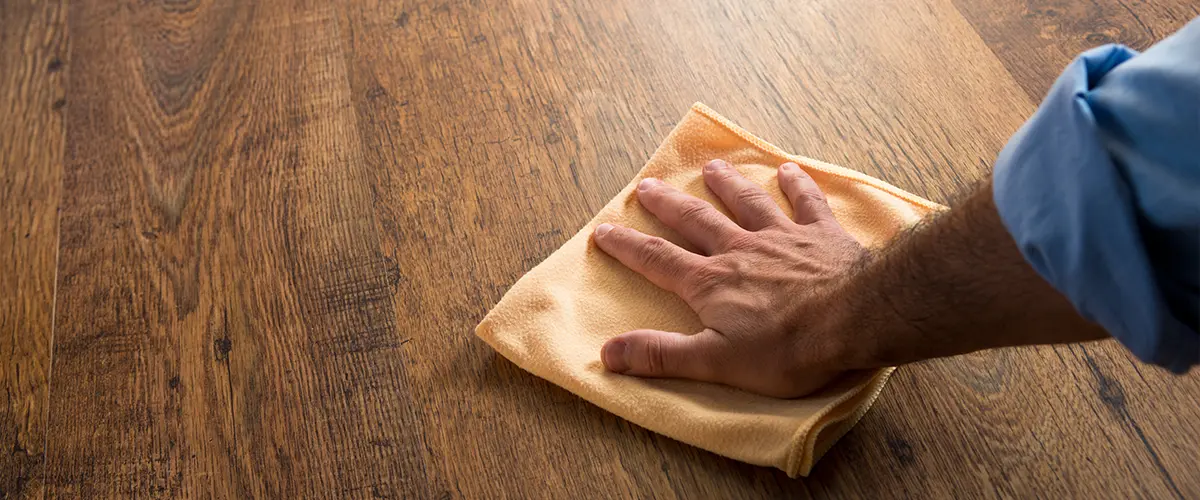 So, the Murphy's Oil Soap vs Bona debate is over, and Bona wins. These are some of the best hardwood floor cleaners, but the flooring market is full of competitors.
Their hardwood floor cleaner is said to be overall better by all the homeowners who have been using it for years. And we at Randy Stewart say the same. We've been working with wood floors for a lifetime now, and we've never seen better than Bona when it comes to wood floors.
If you want to find out more about the maintenance of your wood floors, give us call, and we'll be more than happy to assist you!
Call us today at (843) 900-4880 and let's discuss your upcoming project, or request your free quote and let's get started on your project!