Luxury vinyl plank is one of the most popular flooring options for kitchens, bathrooms, basements, bedrooms, or any other room in your home.
And it's no wonder!
Luxury vinyl plank (LVP) and luxury vinyl tile (LVT) are packed with a lot of benefits that few other flooring options have. Combine all of them with their affordable price, and you soon realize how great these floors are!
However, like any other material on the market, they also have their fair share of cons.
Let's discuss the luxury vinyl plank pros and cons!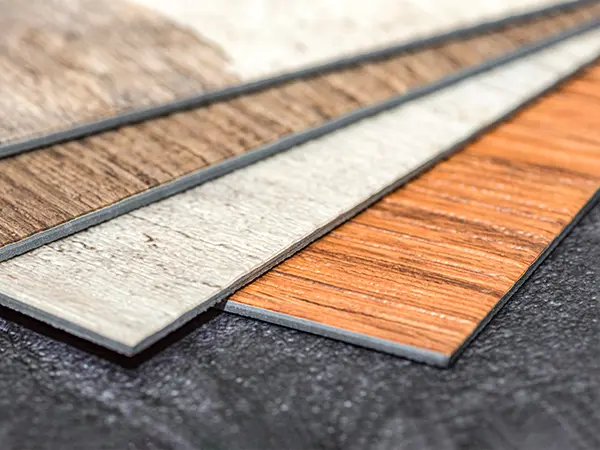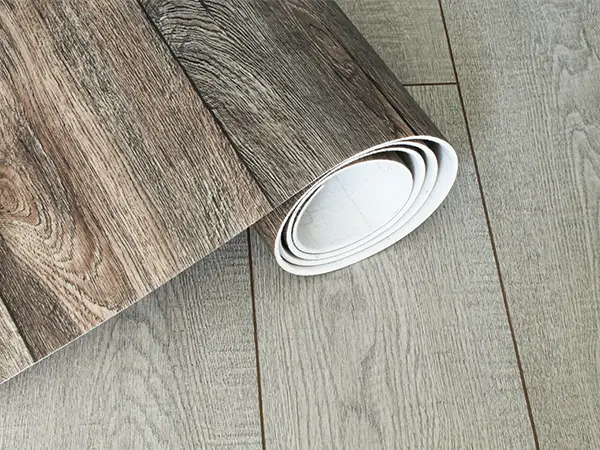 First things first, let's understand what truly is luxury vinyl and how it works.
Luxury vinyl flooring is a material that resembles natural materials such as hard wood, stone, or ceramic tile.
It comprises multiple layers, including a protective top layer, a printed design layer, and a vinyl backing. Because of all their benefits, they're a popular choice for high-traffic areas and homes with children or pets.
Both LVP and LVT are so flexible that you can cut through them with a knife, making their installation fairly easy.
Here are some differences between luxury vinyl and regular vinyl.
| | Regular Vinyl Flooring | Luxury Vinyl Flooring |
| --- | --- | --- |
| Cost | $0.50 to $2 per square foot | $2 to $7 per square foot |
| Thickness | Very thin | Thicker, with a more rigid build |
| Dimensions | 6 or 12 foot, 6 to 18 inch square tiles | 4.5 by 48-inch planks, 12 to 18 inch square tiles |
| Installation | Done with full glue-down bond | Done with click-lock edges |
| Durability | Prone to scratches | More scratch-resistant |
| Resale value | Doesn't have any | Has higher resale value |
| Water Resistance | Better waterproofing | Good waterproofing |
| Seams | Sheets have fewer seams | Both LVP and LVT have more seams |
| Lifespan | 10 to 15 years | 20 to 25 years |
| Looks | Poorly resembles natural wood or stone | Much better at mimicking other materials |
In the paragraphs below, we'll discuss some major differences between standard vinyl and luxury vinyl, along with the pros and cons of luxury vinyl plank flooring.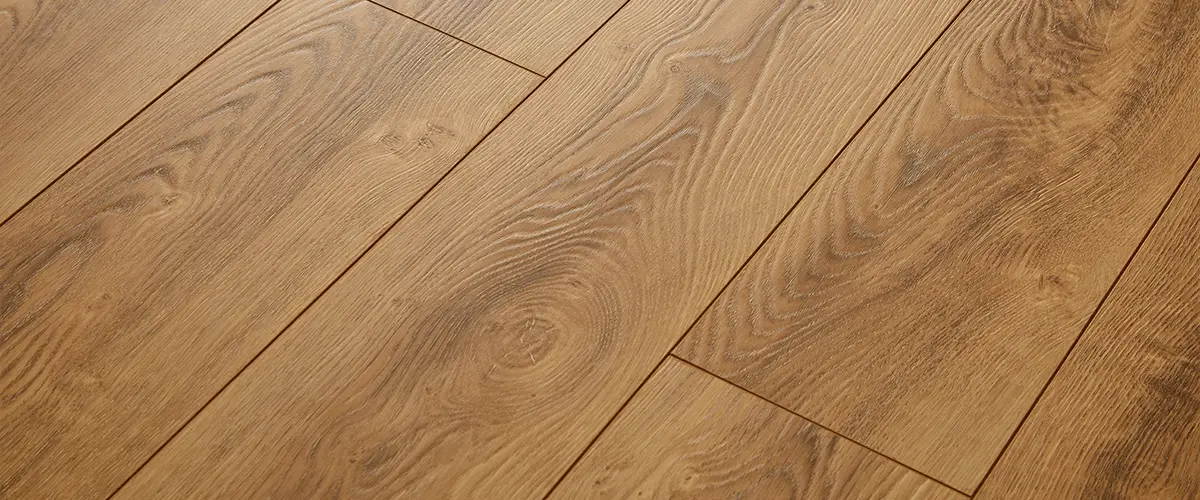 Luxury Vinyl Vs. Regular Vinyl Appearance
Both regular and luxury vinyl is made to resemble the natural look of a hardwood species or of a natural stone. On regular vinyl, the gap between the sheets is not as convincing as it is on luxury vinyl.
Luxury vinyl offers a wider range of colors and styles, whereas regular vinyl sticks to the most popular options. As for sizes, both offer reasonable options. 
The regular vinyl roll is 6 or 12 foot wide and the tile are generally 9 to 18 inch squares, while the luxury vinyl plank size is 48 inches by 4 1/2 inch, and the tile size is 16 x 16 inches, with more options available.
In the matter of appearance, luxury vinyl planks and tiles give you a more authentic appearance and more options to choose from.
Luxury Vinyl Vs. Regular Vinyl Resistance
Because regular vinyl has fewer and tighter seams, its water resistance is much higher than that of luxury vinyl. Because luxury vinyl plank tries to resemble the look of hardwood boards, there are more frequent gaps to simulate that, therefore, more seams through which water can get beneath them.
As for heat, both flooring options tolerate normal heat, like that of direct exposure to sunlight. If it's extreme heat, like that of a burning fire or hot skillets, both types of vinyl will suffer greatly.
So, in the matter of resistance, regular vinyl is better simply because it has fewer seams, so fewer opportunities for water to get through.
Luxury Vinyl Vs. Regular Vinyl Maintenance
Both luxury vinyl and regular vinyl need to be cleaned at a very similar rate and with the same methods. The same basic rules apply to both: sweep or vacuum daily, and clean any water spills immediately.
Once a week, you can also mop the floors with warm (not hot) water mixed with soap. Neither luxury vinyl nor regular vinyl needs sealers or waxes, as they can do more harm to the sheet's design layer.
So in terms of maintenance, both luxury vinyl and regular vinyl are easy to care for.
Luxury Vinyl Vs. Regular Vinyl Durability
Regular vinyl has a softer surface, so it's more prone to dents, scratches, and tears. To make things worse, if there's any damaged sheet, you'll most likely have to replace the entire floor, as you can't take it apart and replace just one sheet of vinyl.
Luxury vinyl, on the other side, is more rigid and ticker than standard vinyl, making it more resistant to basic damages that most floors see. Dents, scratches, tears, and stains are easier to fix, as you can actually dissemble and replace the damaged luxury vinyl plank or tile.
Besides, regular vinyl's life expectancy is between 10 to 15 years (with proper maintenance and care), while luxury vinyl can last for as long as 25 years.
In terms of durability, luxury vinyl is more difficult to get damaged and easier to be repaired (or replaced).
Luxury Vinyl Vs. Regular Vinyl Installation
All regular vinyl is installed using a strong, full glue-down bond. This ensures the sheets are secured to the subfloor and they're not going anywhere.
Luxury vinyl plank flooring is installed much easier, with a click-clock system. The edges of the "planks" interlock and float over the subfloor without them needing any kind of glue. Sure, there are circumstances where glue is advised, but that happens very rarely.
From an ease of installation standpoint, luxury vinyl is much easier and faster to install.
Luxury Vinyl Vs. Regular Vinyl Resale Value
It's a well-known fact that regular vinyl is seen as a dated and rather poor flooring material. Although this is not entirely true, regular vinyl still has very little to zero ROI. In other words, it won't boost your resale value, and if anything, it might actually be a reason for a potential buyer to ask for a lower price if the floor is dated and damaged.
Luxury vinyl might not have the ROI of solid hardwood or Italian porcelain tile, but they're definitely much better than regular vinyl or many other flooring options.
Therefore, in terms of resale value, luxury vinyl plank is much better than regular vinyl.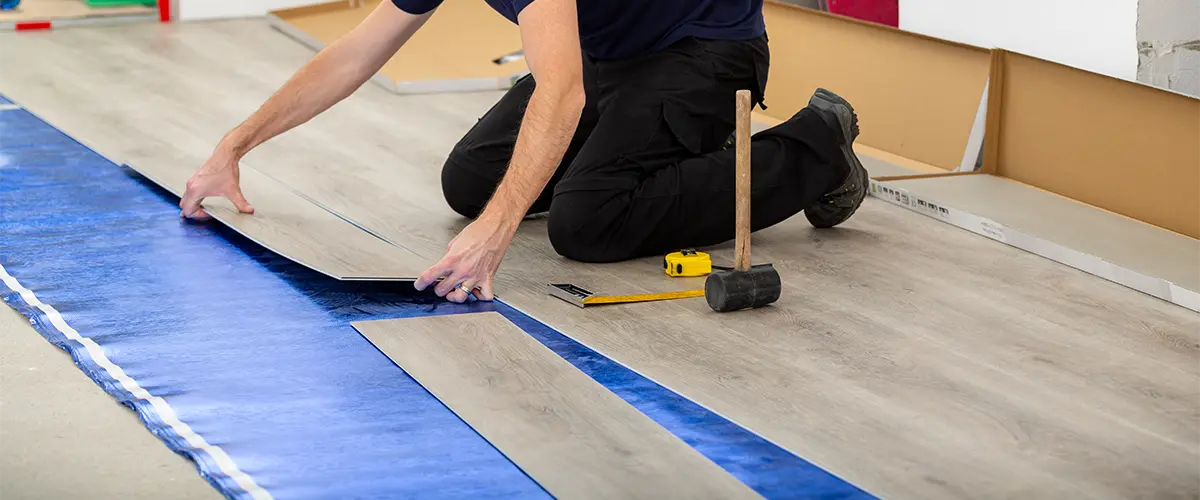 So, ready to decide?
If not, we can give you our expert advice on the luxury vinyl plank pros and cons. We'll also tell you precisely if this material is what you need or if there's a better, cheaper option.
At Randy Stewart's Hardwood Flooring, we offer professional hardwood flooring installation, refinishing, or restoration. We also install LVP and LVT flooring for all homeowners looking for a more budget-friendly option that brings a lot of value to their homes.
We're flooring experts certified by the NWFA, and we're ready to be at your service 24/7!
If you want to start, give us a call at (843) 900-4880 or request a free quote for your project in Summerville, Charleston, Hanahan, Mount Pleasant, or surrounding areas in SC!