Keeping your home looking its best can be a challenge. One of the latest flooring trends that offers a simple and affordable way to enhance the look and feel of any space is luxury vinyl plank flooring.
Not only does it give a high-end look to your floors, but with regular cleaning and maintenance you can maintain an attractive appearance without too much effort.
Let's go over all there is to know about luxury vinyl plank maintenance, from types of care products to use on various surfaces to proper upkeep practices.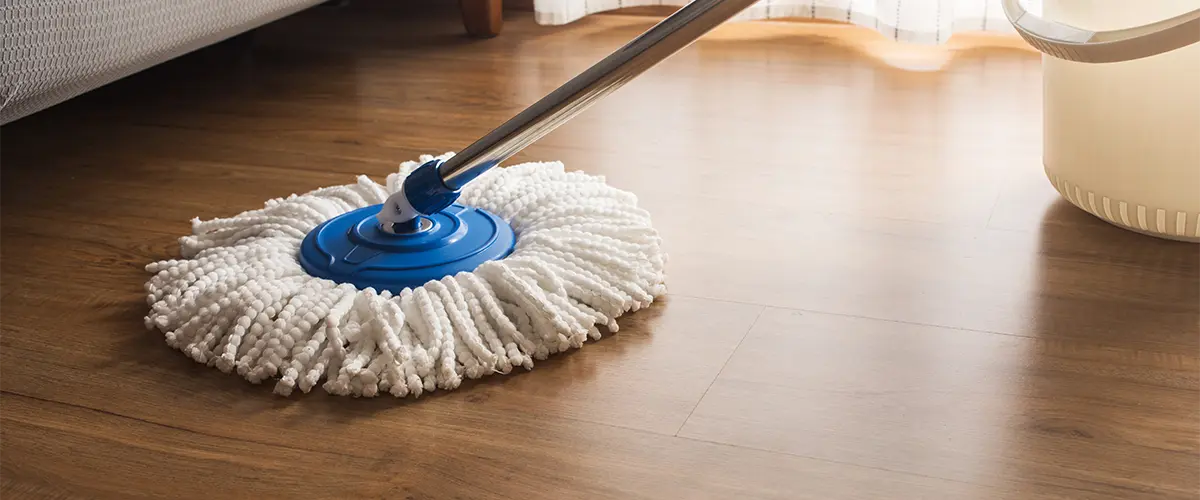 Tips For Luxury Vinyl Plank Maintenance
Ever wondered how complex luxury vinyl plank maintenance is? While it may be time-consuming to some, vinyl flooring is more resistant than other flooring types. The following tips and tricks will help you get the best vinyl plank floor cleaning results.
Maintaining the allure of your LVP flooring requires a little bit of TLC. To keep it in tip-top shape, it's essential to sweep or vacuum it every day to remove any loose dirt or debris to prevent unsightly scratches.
We recommend using a microfiber cloth or mop to give your floors a deep clean that will pick up any straggling dirt or dust bunnies. 
Just be cautious to avoid using a beater bar on your vacuum as this may do more harm than good.
Removing Stains and Spills
While spills and stains are no match for this tough flooring, it's still essential to act fast and wipe them up with a damp cloth or mop. Avoid using anything abrasive (such as steel wool) that could harm the surface of this invincible vinyl floor.
Over time, built-up dirt and grime can take a toll on your vinyl floors, but fear not – a pH-neutral cleaner and trusty microfiber mop can banish even the toughest of messes. Carefully remove loose dirt to avoid scratching the surface.
Just be sure to steer clear of steam and high temps, as your LVP floors can't handle the heat and may warp or curl. If the manufacturer specifies using a cleaning solution for LVP floors, don't attempt to replace it with household products.
Say goodbye to heavy furniture and appliances that can cause irreparable damage! Instead, swathe your vinyl plank floors in care and kindness by using furniture pads or casters to ward off scratches and indentations.
No more dragging furniture across these shining surfaces either! Remember, even pets need to have their nails trimmed to preserve the integrity of your flooring.
Over time, direct sunlight can cause fading and discoloration of your luxury vinyl tile. Keep your floors looking as good as new by implementing some simple and stylish solutions. 
Blocking out the sun's harsh rays with curtains or blinds during peak daylight hours is an excellent way to start.
Additionally, consider applying UV-protective film to your windows to reduce the amount of sunlight that enters your home.
Protect your LVP flooring from further damage by repairing it as soon as possible. No need to stress – replacing individual planks or tiles is a simple process that even a DIY enthusiast can handle.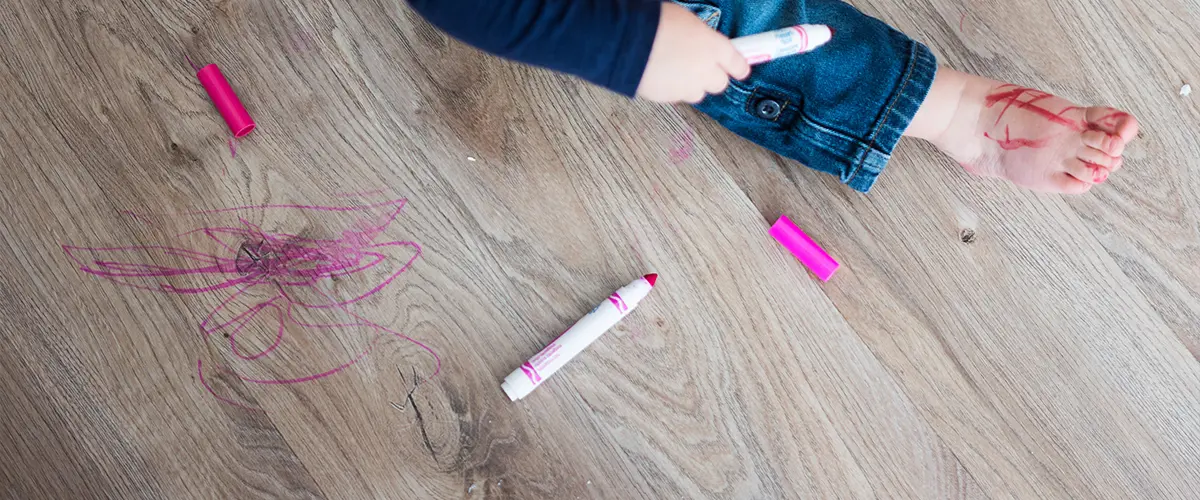 Experience a spotless shine in your luxury vinyl planks using easy-to-find household products! While some manufacturers may have their own recommended cleaners, the good news is that you can safely use various everyday products to keep your floors looking their best.
Remember that not all products are created equal and you'll want to avoid anything that might leave your floors scratched or discolored.
Gentle techniques are key to maintaining the floor's quality, so stay away from abrasive cleaners and harsh tools. Get into the routine of using a soft-bristled broom or vacuum with a hard floor attachment for basic cleaning.
Create a mixture with a few drops of mild dish soap and warm water for a deeper clean. Need to tackle pesky stains? Mix equal parts white vinegar (some claim apple cider vinegar also works) and water and let it sit for a few minutes before wiping it clean.
What To Avoid When Cleaning LVP Flooring
Did you know that using a "beater bar" attachment while vacuuming can damage your gorgeous vinyl flooring? Skip the abrasive scrubbers and steel wool for the best results.
For a long-lasting sparkle, steer clear of detergents, abrasive cleaners, and "mop and shine" products that can leave a dull film.
Regarding polishes, save yourself from future headaches by skipping paste wax and solvent-based options. 
And if you want to avoid having cracks in your vinyl floors? Stay away from ammonia and ammonia-based cleaners, as these can break down the material.
How To Prevent LVP Flooring Damage
It's important to keep your vinyl floors in tip-top shape, and the first step is prevention. Let's face it, dirt, stains, and abrasions are bound to happen, but if we can minimize them beforehand, we'll be more successful in keeping our floors looking clean and shiny.
Start by placing a high-quality doormat or rug in entryways to stop unwanted grit and grime from entering your home. While removing dirt is often easy, why not prevent it altogether?
And when it comes time to move the furniture, try using a sheet of plywood to avoid unsightly scuffs and scrapes caused by furniture legs. Don't forget to add some vinyl coasters under your furniture's feet and legs to protect your floors from permanent indentations.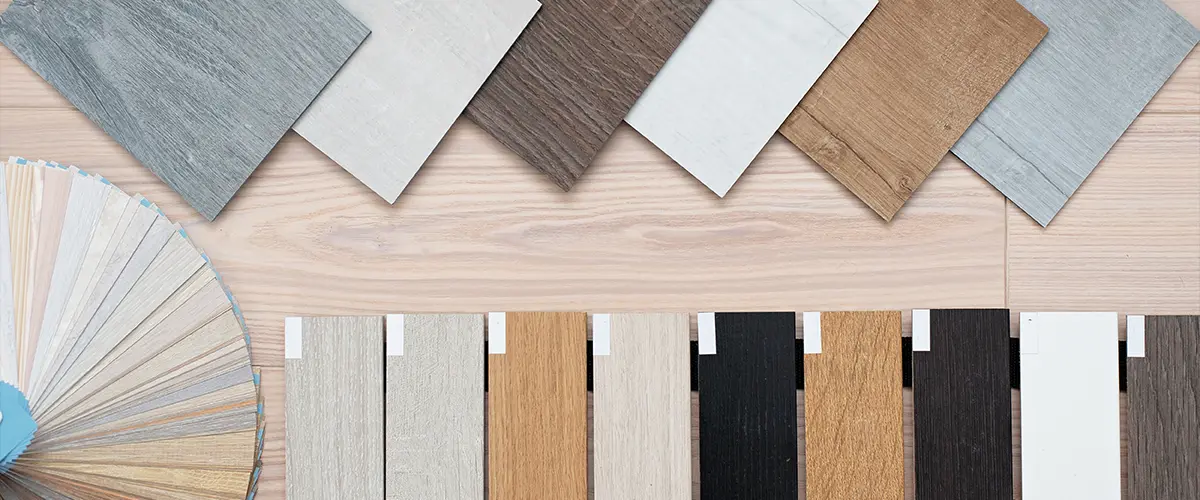 Cleaning luxury vinyl plank flooring doesn't need to be a difficult task, it just requires the right combination of products, knowledge, and care. It's important to know what materials are safe to use on LVP, as well as what to avoid to maintain its integrity.
Armed with this information, you can ensure that your floor maintains its high-end look and serves the home for many years.
If you have any questions or would like assistance with the luxury vinyl plank maintenance and installation, Randy Stewart's Hardwood Flooring is here to help!