Your kitchen flooring is one of the big factors that impact the vibe of your kitchen.
Some types of flooring will make this space feel modern and comfortable, other types will make it look more rustic and traditional.
In this guide, we'll discuss how a hardwood kitchen flooring is a great flooring option for your space, and what it takes to keep it looking great.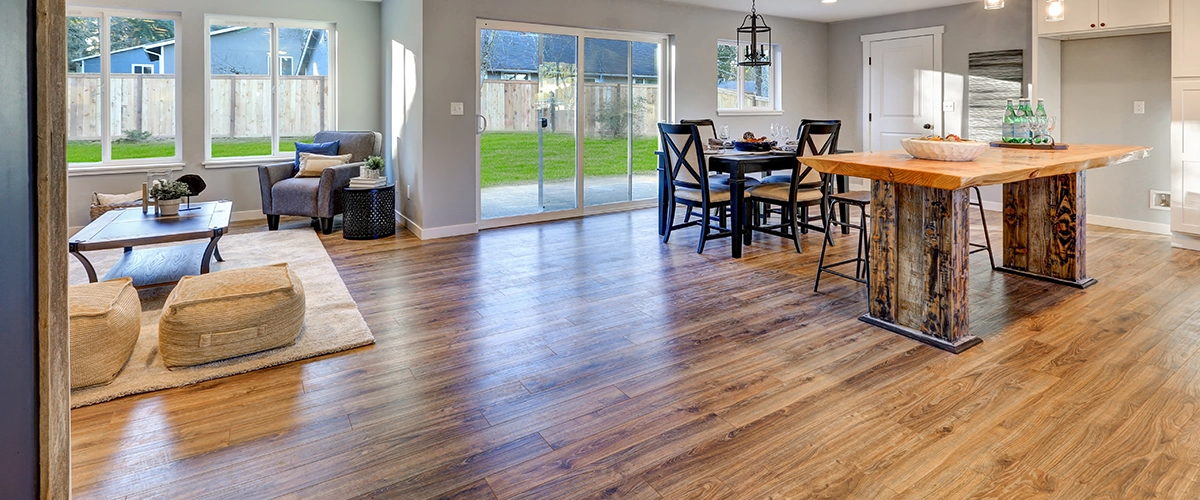 A hardwood floor is a type of flooring that is made from natural wood. It is a popular choice for kitchens because they're fairly durable and can withstand a lot of wear and tear.
There are many types of hardwood that you can use in your kitchen, but the most common ones are: oak, maple, and hickory. All of these woods are fairly durable and will withstand a lot of wear and tear.
How To Care For a Hardwood kitchen Flooring
Maintaining your hardwood floors is fairly simple and only requires a few basic steps.
With proper care, your hardwood floors can last for years to come.
The NWFA website has many resources that tackle the proper maintenance of a wood floor. Check the NWFA website here!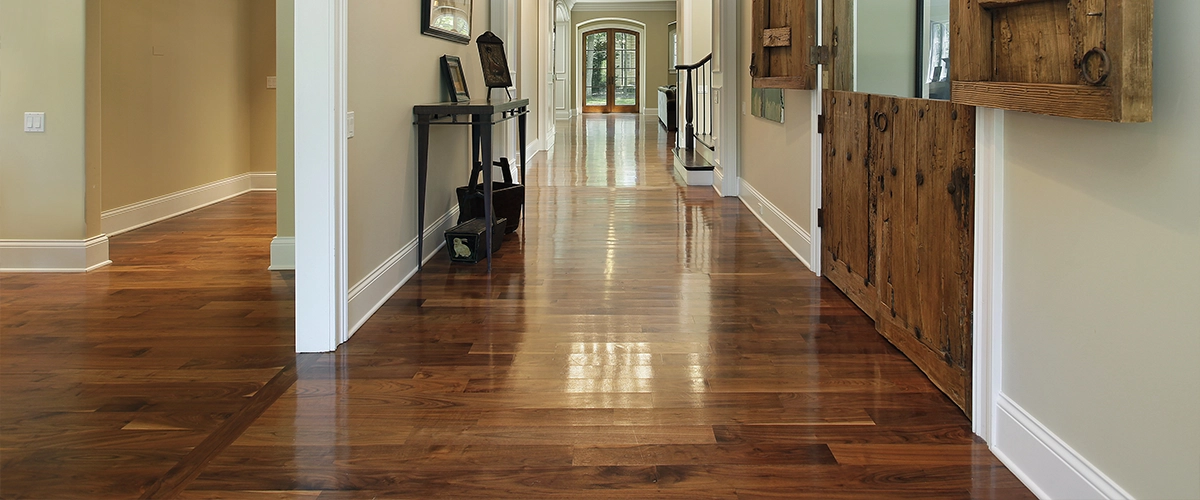 Benefits Of A Hardwood Kitchen Flooring
A Hardwood kitchen flooring has many benefits that'll make your life easier.
The first thing we must mention is the rustic feel they give to your kitchen floor. This is real, authentic wood that you'll be stepping on, so you can imagine it offers a totally different experience than stepping on laminate or tiles.
Additionally, hardwood flooring in the kitchen will increase the value of your property. If you have hardwood floors in other rooms in your home too, it's a must to install hardwood on your kitchen floor as well. Doing so you'll recoup most of your investment if you're ever planning to sell the property.
But the best thing by far is that you can refinish a hardwood flooring to make it look like new. You can seal and stain it again, bringing it back to its former shine.
Drawback Of A Hardwood Kitchen Flooring
There are also a few things to keep in mind if you're considering a hardwood kitchen flooring for your space.
First, hardwood floors can be more expensive than other types of flooring. Like we said, this is natural wood, so the cost to obtain it will be higher than buying and installing laminate.
Talking about installation, the installation is also more difficult and requires a professional. This adds to the total cost of your hardwood kitchen flooring.
But one of the worst drawbacks of a hardwood kitchen flooring is the fact that it is, after all, wood in a damp space that sees a lot of water spills. And although it is resistant and durable, even hardwood is susceptible to water damage, rot, mold, and pests.
Check out this article for even more info about wood floors in kitchens!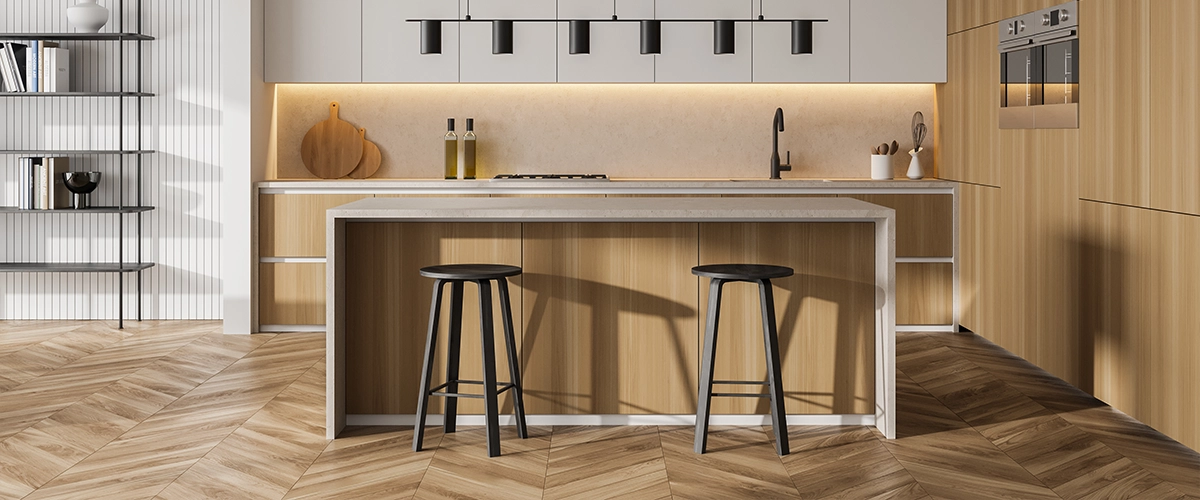 Should You Get A Hardwood Kitchen Flooring?
An honest opinion is: it depends.
If you're using your kitchen a lot, you're cooking every day, and you have children that are not always careful with stuff, a hardwood kitchen flooring might not be the best call. You'll be better off with a tile flooring (ceramic tiles, porcelain tiles, or even a concrete flooring).
If, on the other hand, you don't cook very often and you kitchen is a somewhat safe place for wood, hardwood flooring will definitely look amazing on your kitchen floors.
We would also recommend installing hardwood floors if the rest of your home is equipped with hardwood. So if you have hardwood flooring in your bedrooms, living room, laundry room, etc., keeping the feel consistent and getting a hardwood kitchen flooring will boost your property's value and feel.
If hardwood is out of your budget, here are some other flooring materials: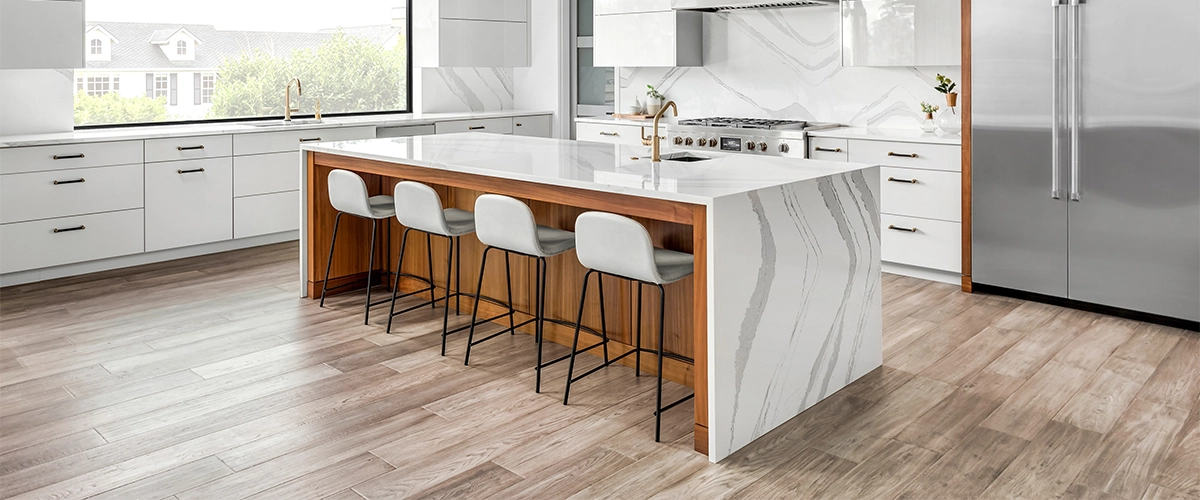 What's The Next Best Alternative?
Luxury vinyl planks mimic the look of any wood species out there, they're more affordable, easier to maintain, and also durable enough. A vinyl flooring can be a great upgrade, especially in a kitchen.
Another option would be engineered wood flooring, and we talk about it in our article Engineered Hardwood vs Laminate Flooring. Check it out here!
With Randy Stewart's Hardwood Flooring, you can have the best hardwood flooring and LVP flooring installation in South Carolina. We're experts in refinishing floors and adding brand new ones, so you're sure to get the highest quality in the industry.
If you want to talk directly with an expert and hear his opinion, call us today! If you're looking to start your project sooner, request a free quote!