If you're thinking about refinishing your hardwood flooring, you've come to the right place.
Flooring refinishing is a great project to undertake. It boosts the look and feel of your home and increases your property's value. In fact, according to realtor.com, the ROI of a flooring refinishing project is about 70 to 80%.
But at the same time, if refinished poorly, your flooring can ruin the room's mood.
In this quick guide, you'll discover the most crucial aspects you need to know about hardwood flooring refinishing.
Let's begin!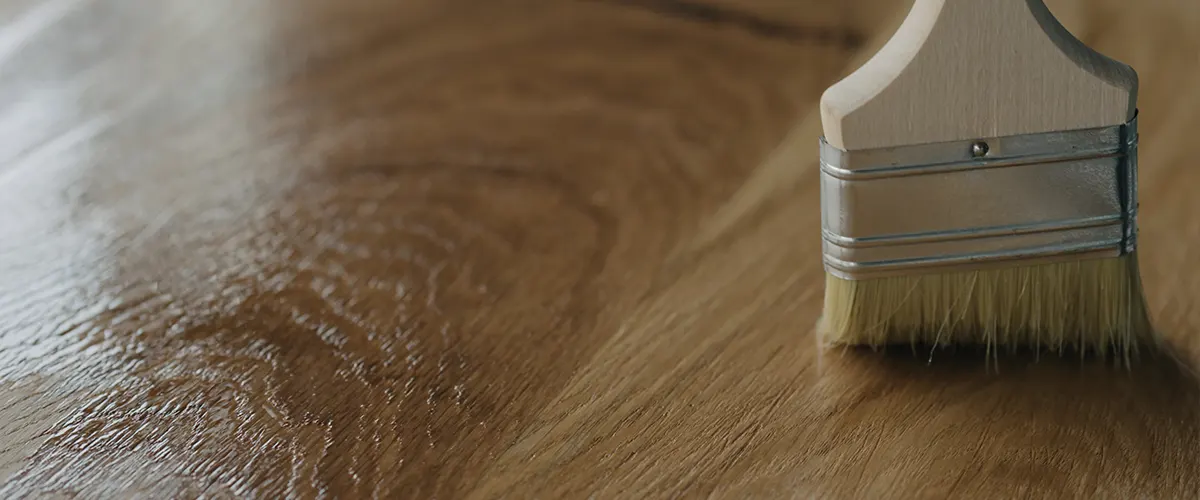 What's Flooring Refinishing?
Many of our customers decide to refinish their hardwood floors because they're starting to show the wear and tear. And it's only natural. Most older homes have hardwood floors, as it was the most popular choice back then.
One of their main concerns is about refinishing or resurfacing their floors.
And while both of these options are great ways to uplift your property's aesthetics and value, they're used in different situations.
Refinishing hardwood floors means sanding down your floor to remove the existing stain. After the hardwood is fully visible in its natural color, experts will apply a new layer of stain and lacquer.
For this, you'll need:
Resurfacing goes one step further. It involves removing damaged boards, grinding down uneven boards, and reinforcing the floor with new, stronger nails. Think of resurfacing as replacing hardwood floors.
Naturally, resurfacing is more time-consuming and requires more physical effort than refinishing a hardwood floor. You'll need new lumber, nails, a nail gun, a power saw, and other tools.
Both these projects require a professional acquainted with hardwood flooring and their treatment, especially if you want the end-product to look like the first time you've seen it.
When To Refinish Or Resurface?
This matter is rather simple, but it also depends on your budget and the time you have available to start and finish the project.
As we mentioned above, refinishing wood floors is quicker and when done right, it can really make your hardwood flooring shine. Resurfacing takes more time, but in some cases, it's the only choice that makes sense.
Refinish when:
The Most Popular Flooring Refinishing Methods
There are three highly popular types of finish used for hardwood flooring today: water-based polyurethane, oil finishes, and wax finishes.
Let's discuss each of them.
Flooring Refinishing With Water-Based Polyurethane
Water-based polyurethane is a type of finish that offers a silky, glossy appearance in several hues (or degrees of sheen.) Polyurethane is a plastic or polymer that's utilized in a variety of applications, including insulation and foam, as well as plastic wheels and protective coatings.
For flooring it's applied as a liquid that needs to dry to harden and form a protective layer that's also resistant to moisture.
The water-based polyurethane is one of the most popular types of finish for several reasons.
However, there are a few downsides to this finish.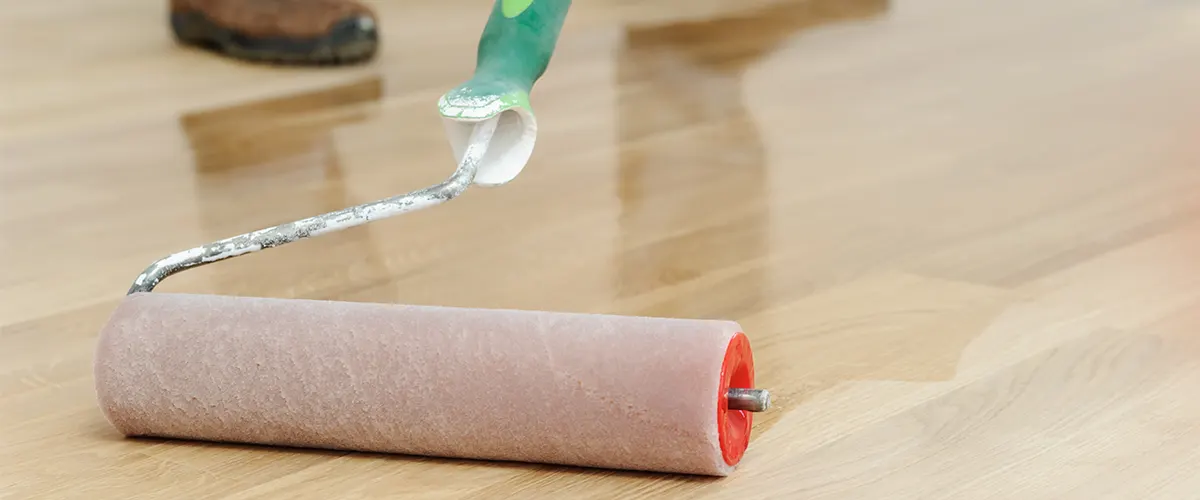 Flooring Refinishing With Oil Finishes
Oil finishes are oil or solvent-based liquid substances that are used to coat a hardwood floor to prevent scratches, scuffs, and spills.
Oil finishes can significantly extend the life of the floor by reducing wear and water damage while also preserving its original beauty.
Oil finishes were the standard in the flooring refinishing industry, but the water-based polyurethane gained much more ground lately.
Some advantages of this finish are: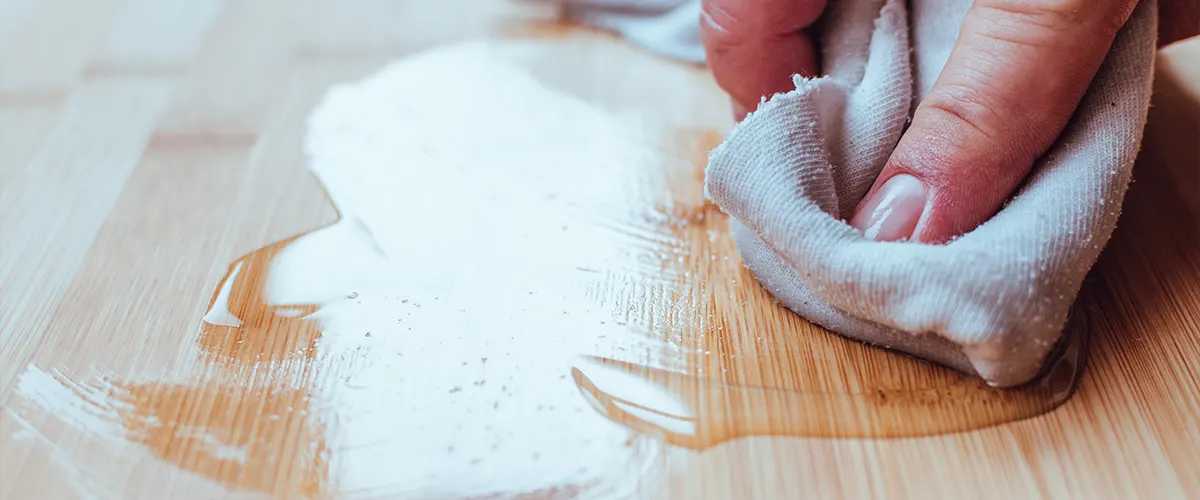 Flooring Refinishing With Wax Finishes
Hard wax oil finishes are combinations of natural oils and wax. Oftentimes these come with a pigment that can renew the color and texture of the wood grain.
These finishes penetrate the hardwood and create a strong layer that protects the hardwood from stains and water damage. 
When the wax hardens, it gives your hardwood the beautiful look of natural wood. A wax finish on a wood floor acts as wood stain, so you can give a new color to your original hardwood floors in no time.
The advantages and disadvantages of this finish are similar to the oil-based finishes.
Note: Maintaining a hardwood floor with a wax finish is more difficult than any other finish. To best clean the floor, you'll have to regularly vacuum the floor and apply a proprietary finish on the entire floor.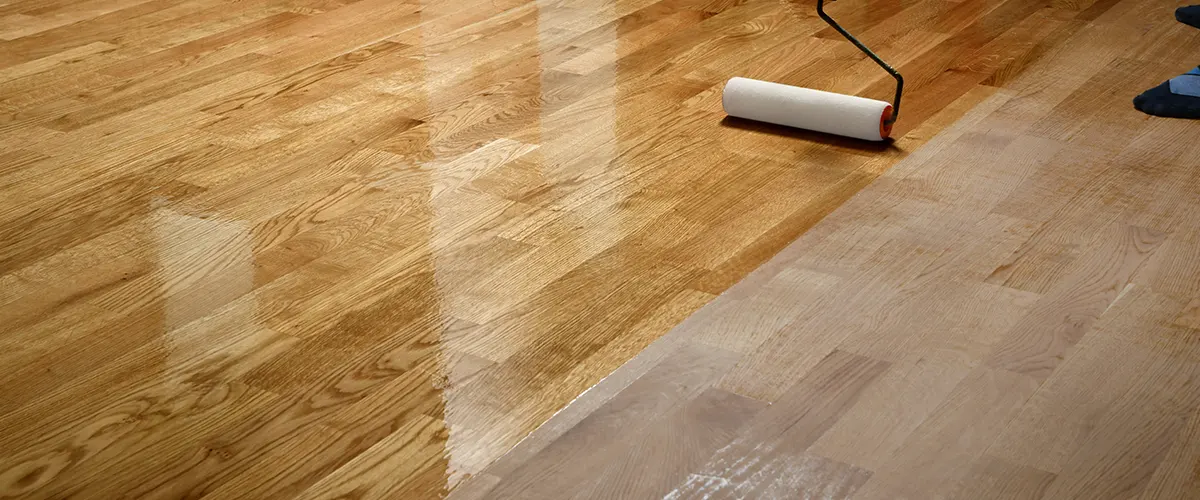 Cost Of Flooring Refinishing
Hardwood floor refinishing is more affordable than resurfacing, but remember that sometimes refinishing won't do your wood floors any good.
According to HomeAdvisor, the cost of flooring refinishing ranges from between $1,074 to $2,485.
The national average cost of flooring refinishing is $1,757, which comes out to $3 to $8 per square foot, including materials and labor.
Because it's a project that requires a great deal of physical effort, roughly 80 percent of the cost to refinish hardwood floors comes from labor.
Refinishing hardwood floors is definitely a home upgrade that uplifts the mood of your home and increases your property's value if you decide to sell it.
However, this all depends on the type of finish that you choose, and the quality of the end-product. If you're planning to refinish your hardwood floors as a DIY project, you risk making the mistakes that will decrease this project's value.
If you want a professional to take care of your hardwood floors, Randy Stewart Hardwood Flooring is your local flooring company in Charleston, Summerville, Mount Pleasant, and surrounding areas of South Carolina.