You're probably very proud of your hardwood floors, and you should be. Wood floors boost your property's value and bring immense value to your home. Besides, they look beautiful.
However, hardwood floors are difficult to maintain clean and shiny for a very long time, and a lot of cleaning products out there are actually doing more harm than good.
So this begs the question: what's the best way to clean hardwood floors?
Find out below!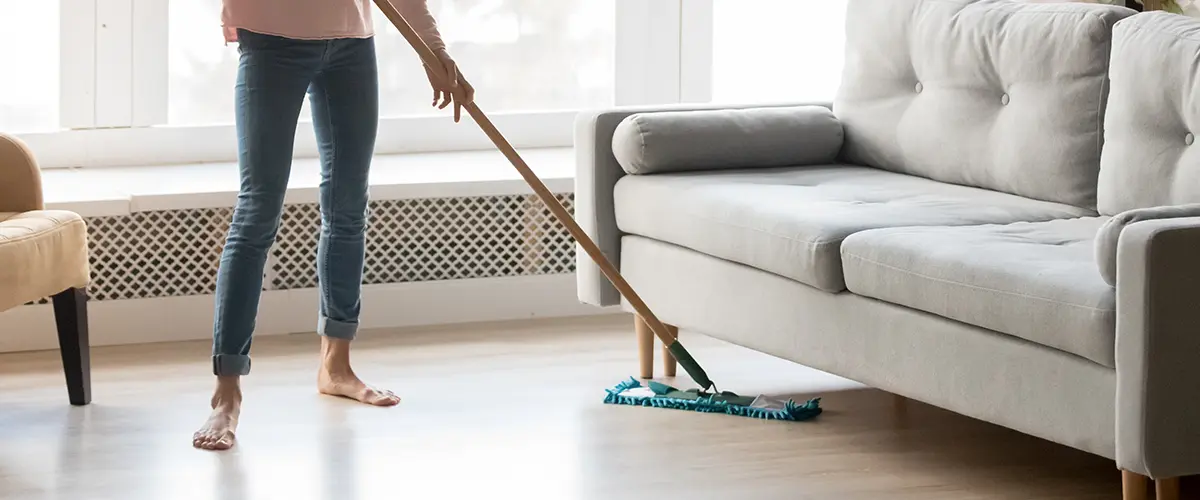 The Proper Way To Clean Hardwood Floors
Let's start by saying water is wood's worst enemy, even on sealed floors, so never use a soaking wet mop.
The most important thing you want to do is to not let any water sit on the floor as you're cleaning, so work in one small area at a time. The best way to clean the floor would be with a soft cloth on your knees, but not everyone is up for that, so use a dry mop.
Start by dusting or sweeping your floors well. Make a cleaning mixture using 4 cups of warm water and a few drops of castile soap or dish soap. Rather than shaking, mix gently, and then use the solution to clean small sections at a time. Dry them with a clean cloth or dry mop right after.
Always clean the room from top to bottom and leave cleaning hardwood floors last. This makes a lot of sense, as you don't want dust to fall on your clean wood floors.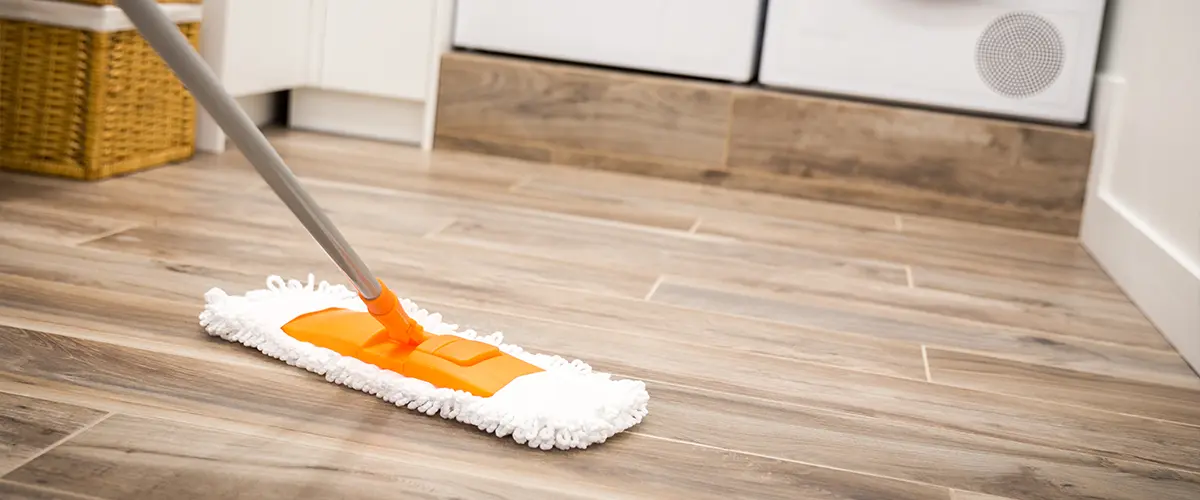 How To Remove Stains When You Clean Hardwood Floors
To remove a stain from wood floors, you must first consider their type of finish. If the discoloration appears on top of the flooring, it likely has a hard urethane finish. However, if your floor's staining penetrates through its surface and into the wood itself, this indicates an older home that may have softer oiled finishes that haven't been refinished or resealed.
Keep your hard-finished floors gleaming by removing surface stains with a clean, soft cloth. Avoid sandpaper, steel wool, and harsh chemicals at all costs to preserve the finish of your flooring.
If your hardwood floors have a soft oiled finish, these remedies are the perfect solution! To ensure that the spot matches the rest of the floor, stain it afterward and wax & buff it for an even look.
what You Need To Clean Hardwood Floors
Step 1: Remove Dark Spots and Pet Stains
To restore your wood floor to its original luster, begin lightly rubbing the stained area with No. 000 steel wool and finish off with a layer of floor wax for added protection. If that does not trick, pour some bleach or vinegar into the spot and allow it to absorb for an hour before wiping it clean using a damp cloth.
Step 2: Remove Heel Marks
Buff in floor wax with a soft steel wool pad for best results.
Step 3: Remove Oil-Based Stains
First, use a soft cloth and some dish detergent to combat grease stains to break down the problem area. After rinsing with clean water, if it still remains, repeat this step. Keeping kids and animals away from the scene is best until all cleaning attempts are finished. Once dry, you can sand smooth any raised grain that may be present to ensure the complete removal of greasy residue.
Step 4: Remove Watermarks or White Stains
Give the stained area a gentle rubdown with No. 000 steel wool and top it off with some floor wax for a lustrous finish. For deeper stains, lightly sand down the area and use fine steel wool and odorless mineral spirits to clean it up effectively.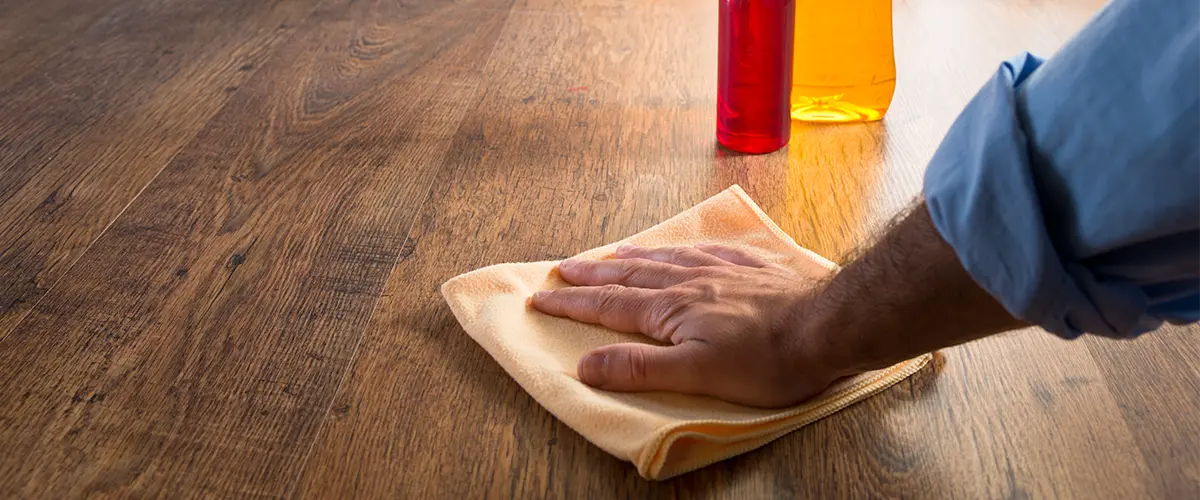 Wood floor cleaning is not rocket science, but there are a few things to remember when doing so. The most important ones are:
We're experts when it comes to hardwood flooring! Randy Stewart Hardwood Flooring serves homeowners in Summerville, Charleston, and surrounding areas with high-quality floor refinishes and installation, but we also offer in-depth and professional advice for your floor maintenance.
Give us a call at (843) 900-4880 or request a free quote, and we'll circle back as soon as possible!